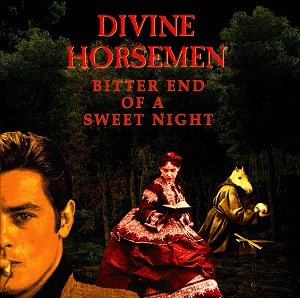 27 October 2023
When singer/songwriter Chris D(esjardins) resurrected his original band the Flesh Eaters a few years ago, fans pretty much expected him to reignite the fire of his other band Divine Horsemen as well. A collection of covers, remakes, and new tunes, 2021's Hot Rise of an Ice Cream Phoenix served as both a revival and a clearing of the decks, more of an announcement than a next chapter. That comes with new album Bitter End of a Sweet Night, a set of new songs performed by the same lineup as last time: Desjardins, co-singer Julie Christensen, guitarist Peter Andrus, bassist Bobby Permanent, and drummer D.J. Bonebrake, on loan once again from X (and the Flesh Eaters).
When the Horsemen began in the mid-eighties, they were seen as the Flesh Eaters' country cousins, with Desjardins' patented noir lyrics set in friendlier, more melodic environs. As time passed, however, the line between the Horsemen and the Eaters blurred considerably, in part due to each band's Red Rover membership, and that's still the case here. Acoustic guitar-laced, folk-inflected tunes like "Bitter End," "These Evils," and "No Mercy" (the latter two written by Christensen) alternate with gritty, grimy hard rockers like "Memory Fails," "Murder of Courage," and "Dirty Like An Angel." The country element comes less in the music than the lyrics – "Notorious," "You Knew No Other Way," and "Talking in Your Sleep Again" could've been C&W tunes in the era of murder ballads and (failing) adult romance.
If there's any complaint to be made, it's the inherent grimness of Desjardins' visions – any attempts at gallows humor get swallowed up by the black cloud the songs carry everywhere. But that's also what we expect from the Divine Horsemen – if we wanted to stay for the yuks, we'd be spinning a Primus album. Bitter End of a Sweet Night instead delivers exactly what we look for: dark thoughts, doomed romances, and the defiance that comes from a vision soaked in darkness but never surrendered to it.