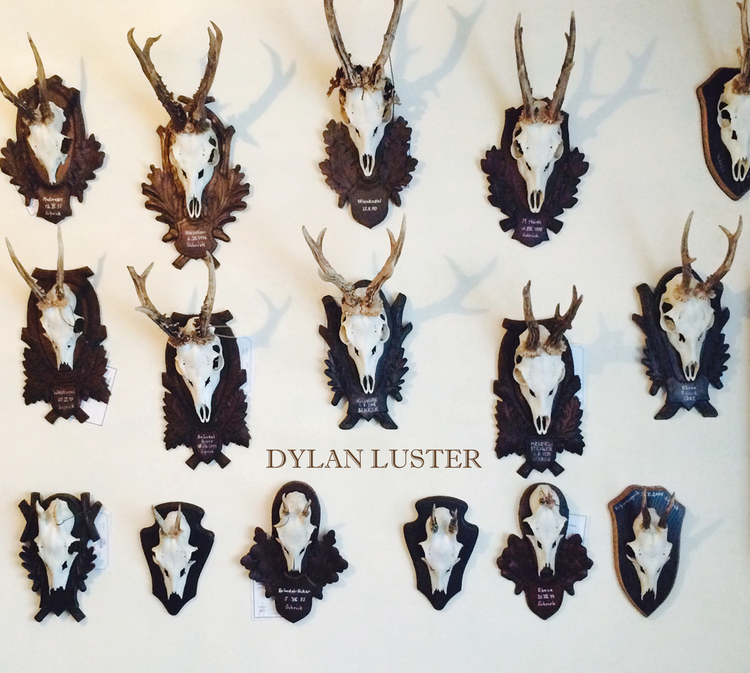 18 June 2016
Born in Los Angeles and "shaped by working class roots and a colorful past as a gravedigger and crematory operator," 27-year-old indie folk singer/songwriter Dylan Luster knows well the trials and tribulations of everyday life. Fortunately, as his eponymous debut EP demonstrates, he's got the vocal and musical chops to express his personal quandaries with bittersweet vocals, warm yet stark instrumentation, and relatable lyricism. Billed as "a pensive narrative that evolves around themes of impermanence, bourgeois alienation, and the fraying of love," the four-track sequence (which features guest appearances from Casey McGarry, Eric McCann, Brady Leffler, and Dan Wistrom) channels icons like Townes Van Zandt, Willie Nelson, and Harry Nilsson into charmingly humble and universal reflections. It's a very impressive starting point.
Opener "Hard to Explain" fuses mellow, down-home acoustic guitar strums, light percussion, and pedal steel guitar wails with Luster's echoed, fragile vocals. His verses convey a matter-of-fact cadence, and his slight air of defeat while singing lines such as "No more waiting for a rainy day / After all, the season changes under the sun" is very effective. Likewise, the backing harmonies during the chorus—"It's so hard to explain[,] my love"—add a classy coating of extra emotion (and the ambiguity of the line itself is a nice touch).
"Don't Know About You" is faster and more full-bodied, with a minor chord progression, feistier drumming, subtle organ drones, and sharp electric guitar leads. Melodically and lyrically, it seems a bit less introspective and nuanced, which gives it a more radio-friendly persona. Afterward, delicate piano chords meld with faint guitar pickings and a quaint harmonica lead-in to evoke classic Bob Dylan on "Soul Remains," the albums strongest track. It recalls the somber honesty of "Hard to Explain," yet it's even more tortured and sparse, allowing the space between the instrumentation to speak as much as the music itself. Also, the inclusion of more pedal steel guitar near the end, coupled with the shifting syncopation, adds a poignant extra layer of heartache.
The final song on Dylan Luster, "Where Did You Go," is reflective and tempered, if not also a bit bright; even though his words ("Hello / Baby, you've got my scars / Heaven told me that you've got my eyes . . . Where did you go? / My only one") are poetically uncertain and longing, there's an overarching sense of hope in the way the arrangement moves around his lamentations. In particular, the organ swells around the rest of it like a sunrise pinpointing a cinematic, optimistic aftermath. It's a life-affirming conclusion that gives the EP a sense of closure, and it, like the preceding trio of tracks, leaves you eager to hear what Luster does next.