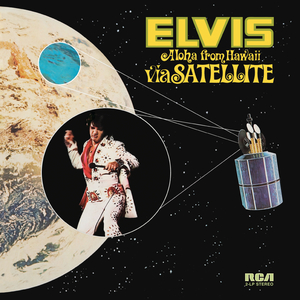 11 August 2023
From his outlandish white jumpsuit to the grandiose "Also Sprach Zarathustra" introduction to the estimated billion-plus TV sets tuned in to the event, much about Elvis Presley's 1973 Aloha from Hawaii via Satellite concert shouts uncool excess today. On the other hand, there's the music itself. As heard on this three-disc, one-Blu-ray, 50th-anniversary package, The King was in prime condition when he took the stage of the Honolulu International Center Arena in January, still riding the wave of success that started with his 1968 comeback.
Presley is supported by a large cast of stellar performers for the show, including lead guitarist James Burton, backing vocalists the Sweet Inspirations and J.D. Sumner and the Stamps, and the Joe Guercio Orchestra. Though reportedly an admirer of slick, easy-listening crooners like Robert Goulet, he proves incapable of delivering a glib performance here, whatever the style of the material. Whether tackling a country classic (Hank Williams' "I'm So Lonesome I Could Cry"), delivering hot takes on his recent hits ("Suspicious Minds," "Burning Love"), getting lowdown ("Fever") or scaling sentimental heights ("You Gave Me a Mountain"), this master interpreter gives each song his heartfelt best, displaying an eclectic reach unique in American popular music.
The first disc of Aloha from Hawaii via Satellite contains the music from the concert seen by TV viewers, while the second features the nearly identical rehearsal version. The third disc offers songs recorded without an audience for possible inclusion in the U.S. edition of the show; his take on Gordon Lightfoot's "Early Morning Rain" is splendid. The Blu-ray has the actual concert film. Any way you choose it, Elvis shines with a magnificence he wouldn't equal again.