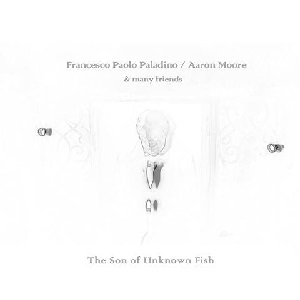 3 February 2015
Thirty-year veteran of the Italian underground music scene, Francesco Paolo Paladino (A.T.R.O.X., The Doubling Riders, Nosesoul, Alio Die), offers his latest multimedia solo extravaganza to an unsuspecting public.
Musically, The Son of Unknown Fish is cinematic, visceral and thoroughly engaging. By weaving spoken word elements with prog-ish compositions, Aaron Moore's soundtracks from Paladino's short films and found sound experimentation, Paladino tells a Darwinistic autobiography, a celebration not only of his life, but of humanity in general. As the tracks seamlessly progress, multiple moods unfold, from triumph to darkness and consistency to confusion. It's Fellini via Instagon: unusual, provoking, fascinating.
The DVD, on the other hand, reveals Paladino's visual persona. Ranging from music videos assembled from public domain movies and NASA films to the aforementioned short films, which feature a woman in a giraffe mask playing with a weird rubber ball, they complete the full, albeit head-scratching, portrait of an artist whose work is remarkably unique.
Though Francesco Paolo Paladino's piscine heritage may be a mystery, he is proud of it nonetheless. Join him in a toast to, not only his, but all our ancestors and learn to breathe through gills again.