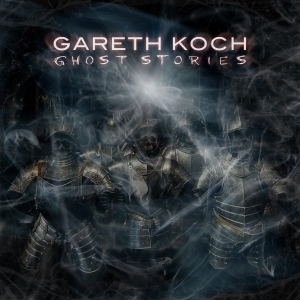 16 September 2023
From the heart of Tasmania's wilderness, Gareth Koch has recently released "Ghost Stories". His shimmering new instrumental album weaves in a variety of influences, from Pink Floyd to The Church. As Gareth says, imagine "monks with guitars, lyres & drums" or "Hildegard von Bingen discovering the electric guitar."
Koch is something of an aural archaeologist. Armed with a PhD in Music from the Sydney Conservatorium and ample skills on a variety of medieval and contemporary instruments, he seems most happy creating music that spans a range of influences. "Redemption" starts the album and begins much like many jangly tunes from The Church. But after drums kick in an acoustic guitar riff conjures Beethoven's "Ode to Joy."
Despite Koch's obvious global musical intelligence, on "Ghost Stories", Koch's Australian-ness seems to shine brightest whether by intent or reflex. Several songs seem ripe for vocal enhancement from past collaborators and countrymen. "Old Church" in particular stands out as a track that is well on its way to singlehood, could have been perfectly architected for Steve Kilbey's breathy vocals and surrealist lyrical leanings. "Amadeo" is another stunner, kicking off with surging energy, overlayed with guitars set to Marty Willson-Piper. I'd love to hear vocals here, but this song feels entirely complete sans words on its own merit.
"Dance of the Unblessed Spirits" takes me back to another Kilbey. Steve's brother Russell led the jangly Crystal Set back in the 80s, and something about the acoustic and slide guitars here reminds me of "13 Days (Of Rain)" off their obscure gem, the "Cluster" EP.
Koch's strength is in crafting tunes with gorgeous acoustic guitars played up in the mix. The electrics add luster and depth, but my ears gravitate to the acoustics. "Longing" and "Succubus" are two- and three-minute dispatches of elegant arpeggionics. "Catacombs" seamlessly marries Eastern melodies with tripped-out rock psychedelia. The results aren't overproduced or hackneyed, and never do you feel Koch is simply trying to show off like some virtouso guitar databank.
"Benedictine" references a different sort of church, delivering on Koch's vision for this album; a mood "defined by chiming cathedral-like textures, as if the monks themselves are playing guitars, percussion and lyres." It's a somewhat ambient and mysterious song that includes a 'ghosted' riff sequence reminiscent of "Waiting" from his wonderful and therapeutic last album, reviewed here, "Music in the Afterlife" with Martin Kennedy.
The album closes with an instrumental arrangement of "She Moves Through the Fair". It's a beautiful rendition that would pair perfectly with a mostly acapella version sung years back by Julianne Regan of All About Eve.
Links