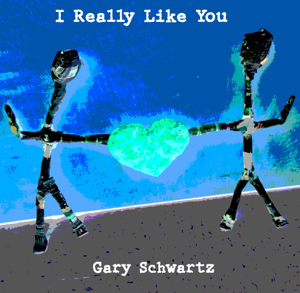 20 February 2017
I'm not sure what prompted former United States of Existence/The Jigsaw Seen drummer Schwartz to reissue this 2014 digital single as a 7". He's only released a handful of songs since 2011, and nothing else since late 2014's "Love's Halloween." And frugally, its flip is just a mono version of the A-side! Then again, given that Schwartz suffered a hemorrhagic stroke in 2014 – from which he has thankfully made a full recovery – one can't complain too vociferously over the scarcity of output (a new single he's currently working on, "It Just Is," will describe his experience with the stroke). That said, the 100-pressed blue vinyl looks sharp, and he'll send a free copy to anyone who makes a video singing the song**. [Novel! – ed.] Plus, its positive message, about accepting all people who are different (the song was originally intended to be about people with disabilities), is timeless.
Thus, my issue 76 review still holds: "The upbeat, Supertramp/Hall & Oates-like 'I Really' finds the falsetto-flaunting Schwartz humorously hailing humans' homologous qualities, fueled by a chugging electric, perky organ, and a bouncy rhythm." I still "really like" it. (garyschwartz.bandcamp.com)
** Per his blog, it now appears that a simple e-mail to Skelter40@aol.com with "I Really Like You" in the subject line will suffice for the free copy. Act fast, as there's apparently only a handful of them left!