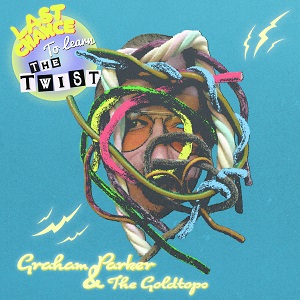 7 September 2023
Coming in on half a century of rock & roll, it might be argued that legendary singer/songwriter Graham Parker and his latest backing band the Goldtops have something to prove. On evidence of Last Chance to Learn the Twist, however…nah. The truth is Parker has long been one of the most consistent artists in rock – partly because he's never had a legacy of hits to compete against (though his audience certainly has their favorites), and partly because he's always been savvy enough to know how to experiment while still playing to his strengths.
Case in point: "Sun Valley," the third track here. Navigating his by-now patented blend of roots rock modesty and blue-eyed soul, Parker plays with song structure here, avoiding the typical verse/chorus/bridge/chorus pattern and expanding into a looser, more thematic development that's almost like classical music. That's not to say it sounds like some avant-garde experiment – a casual listen makes it sound like a typically stirring Parker ballad. But it doesn't take too many listens to reveal the way he plays with form here. The handsome meditation "Grand Scheme of Things" and the impressionist protest song "We Did Nothing" follow suit, sounding familiar and unusual at the same time.
Parker and the band also revisit the styles in which he's most comfortable, from the country ballad "Shorthand" and the R&B interpolation "Music of the Devil" to the folky introspection "Lost Track of Time" and the comical reggae "Them Bugs." But they don't sound tired or worn out – they're just the sounds of a musician who knows how to keep his music fresh, finding new paths through natural territory. Top it all off with that distinctive voice – more polished and mature than it's ever been – and it makes his new music as difficult to resist as his classics. Last Chance to Learn the Twist is nothing so cliché as a return to form – it's simply one of this veteran artist's very best records.