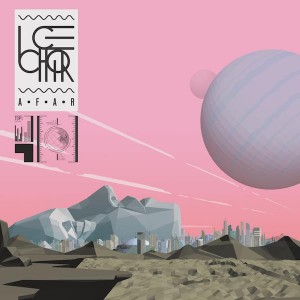 12 September 2012
ICE CHOIR proposes to you, the listener, a most unfavorable "pop" experience: imaginative songcraft minus the cool factor. Leaning heavily on the crumbling pillars of 1980's technopop production aesthetic, this is music that is both distinctly modern in composition and cripplingly esoteric.
There's a lot to unpack in the above manifesto, which precedes the latest project from Kurt Feldman, most recently drummer for The Pains of Being Pure at Heart and formerly leader of the very badly missed Depreciation Guild. One imagines he's a smart man, the way he always follows such a clean line from inspiration to idea to implementation: He understands the work of his influences, he builds a philosophy around his choice to take on these influences, and he has the technical chops to make all of this a reality, to create labyrinthine real space in the electronic realm. Ice Choir's Afar, despite being a pretty considerable change of tactics, is the natural progression from Depreciation Guild's excellent finale Spirit Youth. So, since Chapterhouse registered most strongly in that album's swirl of shoegazing gestures, I'm trying to convince myself that Afar is the Blood Music to Spirit Youth's Whirlpool. But the Feldman continuum doesn't need such a gross analogy, Afar and Spirit Youth sharing generally a strange heaviness and density under somewhat delicate influence. It's easy to tell a drummer made them, not because either one places much emphasis on live drumming, but because both are so thick with rhythm and movement.
And yet, to continue the Chapterhouse bit, that band's second album Blood Music (1993), the Afar in our analogy, hasn't aged very well. It's one of those albums that, by stepping coolly into the flow of 1990s textures and production trends (in this instance), attempt to inhabit a NOW with no context, as if to mark the arrival of a long foretold era, freeze it in that moment, and make all eras of prelude irrelevant (the Right Here, Right Now principle, we shall call it, after that ill-fated Jesus Jones song of 1990, not to mention Fatboy Slim's same-named anthem later in the decade). Afar has some of that courageously uncensored currency, though my powers to predict its future listenability are no better than anyone's have been, ever. Some reviewers, perhaps confused by Ice Choir's manifesto, have written about Afar as if it can be nothing but some joking riff on the past. But the paradox of Right Here, Right Now is that its adherents, at the moment of creation, jettison any memory of the sounds they're referencing in favor of a singular immediacy. And by all of this I only mean to say that Afar is an immediate, gripping listen, and also contemporary. The mysterious integrity of time and eras can't be tricked, no matter how strong the intention and how convincing the means.
Feldman has strong intentions and convincing means here, and there's no way to know how much of Afar is him trying to hit his crumbling technopop targets and how much is him getting good and lost in sounds of his own creation. But as I often do when considering such sophisticated and elaborate pop music, I have to lean toward Afar's origins in the pleasures and processes of studio play (is this what makes it "distinctly modern," above?). But let's speak more about targets: The most effective songs here are the most tender and delicate, the ones where a-ha's Hunting High and Low is the possible inspiration, especially in the vocals. Of that album's "Take On Me," someone once wrote that it's "the rare moment so heart-tuggingly lovelorn that [singer] Morten Harket has to strangle his beautiful voice into a nearly shameful falsetto. But not shameful, because it's that sort of song." Afar standouts "Bounding" and "Peacock in the Tall Grass" are that sort of song, too (see the former's lovely chorus), and both find Feldman doing a fine Harket, without too much straining. Feldman's vocals could sound uncannily sweet and a bit removed from their dense surroundings on his Depreciation Guild songs, but their slightly remote prettiness is apt in the context of Ice Choir. Just as there's really no joke in Afar's aesthetic, ultimately, there's also none to be found in the name of Feldman's current band. He sings for his choir, beautifully. And on serene album closer "Everything Is Spoilt By Use," he finds a perfect duet partner in Chairlift's Caroline Polachek. Her voice is a little breathier, higher, more acrobatic maybe, but takes its cue from Feldman's sweetness and straightness, like some dreamy extrapolation of his best qualities.
However: Have I, in describing an album both shamelessly current and yet determined to operate in a 1980s mode, offered one that's not just prone to premature aging, but pre-dated upon its arrival? Does Afar inhabit a NOW with no context, but one that existed long ago? Well, no, it sounds like the album of the moment to me, and its imaginary spaces have tugged me along through many recent strange summer evenings. From the twisting vacuum tones that announce the album's arrival on "I Want You Now And Always" (its boldest NOW) to the staccato synth bursts (via R.E.M.'s "Airportman"?) that punctuate the fading drama of "Spoilt By Use," Feldman hits his marks on Afar, however fixed or musically intuitive they might be. If I said, "Don't delay in hearing this album," it'd be because it really is that good, not because anything on it is in danger of expiring.