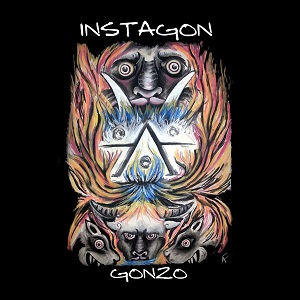 28 January 2015
Having existed for twenty-two years with numerous CDs, cassettes and downloads to their name, Instagon return with what is very likely their very first vinyl release.
The title track, a tribute to writer Hunter S. Thompson recorded on his birthday in 2013, opens with some funky psychedelic weirdness that's something like an acid-fueled krautrock theme song for a porno cop drama. A quick bit of pulsing static, "Source 23," follows. On the B side, "Dash," begins calmly, but builds to an intense, nightmarish end, while "Message 23" uses voicemail as music and "Wobble" combines looped noises, sparse percussion and absurd vocals into a solid collage. "When Pigs Fly" finishes the 7" with a hypnotic psychedelic prog jam.
As Instagon continue, their music remains completely unclassifiable, leaving us wondering what the next release will bring. We shall certainly see.