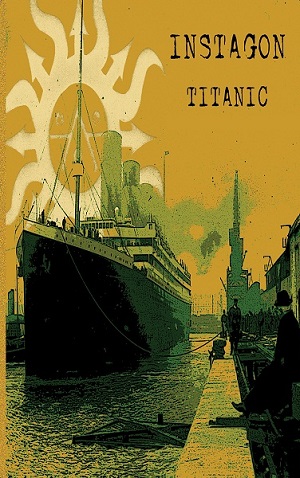 23 April 2013
Recorded live on the 100th anniversary of the sinking of the USS Titanic, this extremely limited cassette release shows the improvisationally inclined Instagon in a sparse, but powerful, lineup that successfully tackles one of history's greatest failures.
The title track consumes all of side A as a sprawling 12+ minute epic that recalls Miles Davis' headiest moments as much as the wah-wah driven soundtracks of Alain Goraguer. Lob Instagon displays some of his best bass playing to date keeping lockstep focus on the drumming of Brandon Amelio, in turn giving guitarist John Keeling room to explore his chromatic Richard Pinhas-like leads, creating an atmosphere similar to Heldon.
Side B opens with the psychedelic funk of "In the Key ov Y," followed by the spacerock-y "Hooper Scoop" and, finally, "Spider"'s dark creepy-crawl. As to be expected, these are top-notch performances that fuel the greatness of Instagon's legacy.
In a scene right out of the film Titanic II, an Australian billionaire has commissioned the construction of an ocean liner based on the design of the infamous cruise ship. Hopefully, they blast these tracks through the PA when it sets sail in 2016.