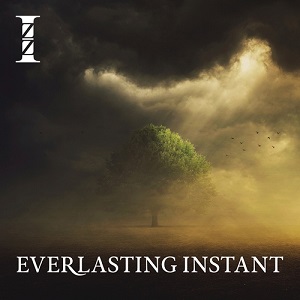 16 June 2015
Considering its origin (New York) and influences (Yes, ELP, Genesis, Renaissance, etc.), it comes as no surprise that progressive rock septet IZZ is a standout group in the genre. With their expansive line-up (that includes both male and female vocalists) and intricate yet accessible and joyful arrangements, IZZ has delivered impressive material for nearly twenty years, with their last offering, 2012's Crush of Night, serving as their strongest effort to date. That is, until now, as the group's newest collection, Everlasting Instant, manages to surpass it. Filled with luscious melodies, delicate structures, and vibrant timbres, it's a great example of how the style can (and should) emphasize strong songwriting as much as it does instrumental complexity.
According to the band, Everlasting Instant serves as the final entry in a trilogy that began with 2009's The Darkened Room (and continued with Crush of Night, obviously). In fact, keyboardist/vocalist Tom Galgano specifies that some of the melodies and lyrics on the record "began as seeds on the two previous albums and they have undoubtedly come to fruition on this new release . . . [there are] subtle variations on prior themes . . ." Regardless of how the record connects to its predecessors (or how much listeners recognize these links), Everlasting Instant is a wonderful journey from beginning to end.
The LP begins with "Own the Mystery," a soft ode whose opening keyboard riff evokes the electric piano style of Amplifier. Once the percussion, flutes, and male/female harmonies chime in, it becomes very catchy too, with a mellow vibe eventually giving way to a frantic guitar solo as things become a bit more intense. From there, the piece alternates between the two temperaments well, concluding with a nice piano outro. The following instrumental interlude, "Every Minute," is brief but more elaborate, with plenty of interlocking instrumentation and eccentric tones. It's a stellar example of how to blend technicality and mass appeal.
Later on, "The Three Seers" is a forlorn tale with a Beatles-esque melody and the futuristic symphonic mastery that makes IQ and Eloy so beloved. The way it evolves from a straightforward piano ballad to a proggy explosion is sublime. Likewise, the title track oozes great vocal dualities and colorful dynamics, allowing IZZ to sound like the East Coast version of Phideaux. As with all of Everlasting Instant, the balance of virtuosity and heartfelt songwriting is just about perfect, which makes IZZ more impressive than many of its peers.
The most obvious link to the prior full-lengths is "Can't Feel the Earth, Part IV." Focused around some really funky bass, the call-and-response vocals, coupled with the percussive buildups and choral effects, makes it one of the most epic and dense tracks on the album. In contrast, "Illuminata" is more classical in spirit, with acoustic guitars and piano leading the charge. There's also a touch of sustained electric guitar notes (inarguably demonstrating an influence of classic Genesis). The chorus is also one of the disc's most gripping.
Really, there isn't a single weak moment on Everlasting Instant. Every piece feels connected sonically and thematically, giving the album a strong sense of unity. Similarly, it's clear that IZZ spent a lot composing and producing each song, as every moment, instrument, and deviation feels precise and confident. Genre fans may find flashier or heavier albums this year, but there's little doubt that Everlasting Instant will rank as one of 2015's most beautiful, tasteful, and timeless progressive rock albums.