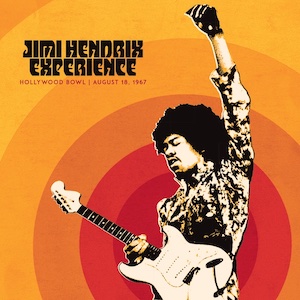 10 November 2023
When Jimi Hendrix and bandmates Mitch Mitchell (drums) and Noel Redding (bass) opened for The Mamas and Papas at the Hollywood Bowl in August 1967, they were in an odd position. Though his Jimi Hendrix Experience had conquered England months before, the trio was yet to break through in the States. An electrifying appearance at the Monterey Pop Festival that June had generated buzz, but the mind-blowing debut album Are You Experienced? was still days from release.
As Hollywood Bowl August 18, 1967 demonstrates, Hendrix and company were more than ready for the spotlight, unleashing a ferocious 40-minute set mixing originals like "Purple Haze" and "Fire" with covers of the Chess blues classics "Killing Floor" (Howlin' Wolf) and "Catfish Blues" (Muddy Waters), as well as a fiery take on Bob Dylan's "Like a Rolling Stone." If opening the show with a cover of The Beatles' "Sgt. Pepper's Lonely Hearts Club Band" was an eccentric choice, it did allow him to unleash an initial volley of exhilarating guitar noise, putting the crowd on notice of what was to come.
Introducing his set-closing version of The Troggs' "Wild Thing," Hendrix calmly vented his unhappiness with the subdued audience response, remarking, "We'd like to dedicate this last number to ourselves…Might as well, man, there's nobody else here." Soon everything would change.