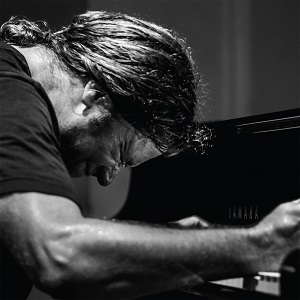 22 September 2023
Despite a shockingly impressive resumé, boasting gigs with (deep breath) William Parker, Sonny Simmons, Charles Gayle, Butch Morris, Daniel Carter, Ed Schuller, Hamid Drake, Susie Ibarra, Mat Maneri, Cooper-Moore, Sirone, Steve Swell, drum legend Sunny Murray, and even the mighty Peter Brötzmann, pianist John Blum has managed to avoid avant-garde stardom in his thirty-plus year career. That's likely because he plays live far more than he records, with only five albums under his own name and less than that as a hired gun. It's certainly not down to the quality of his vision, as Nine Rivers makes bluntly clear.
Recorded live and solo at the Crosscurrent Festival in Italy, these nine cuts of blazing improv showcase a singular artist at his apex. Though it may seem like he's simply lassoed a tornado, Blum's technique is something to behold – despite the aggression with which he hits the keys, his left hand betrays the influence of boogie woogie and stride piano buried beneath the power, while his right channels the likes of McCoy Tyner (circa 1973's rip-roaring concert album Enlightenment) and his mentor Cecil Taylor into a style that's just as bellicose and expansive, while becoming its own very personal thing. If you've ever imagined Paganini as a pianist performing "Flight of the Bumblebee" after a dozen cups of strong coffee, you're nearly there.
Despite the fireworks, there really is a sense of melody in the playing – as frenzied as he sounds, Blum is always in control. Nine Rivers is free jazz as pure self-expression, energized by the sense that if Blum didn't have eighty-eight keys' worth of outlet, he'd likely explode.