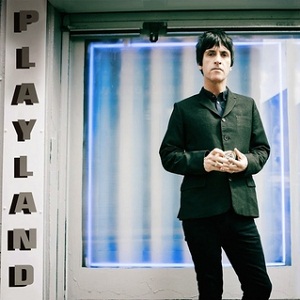 20 October 2014
Johnny Marr is on a roll. Simply put, after a lackluster 2003 solo effort (Boomslang) billed to Johnny Marr and the Healers and almost a decade playing in Modest Mouse and The Cribs, he has made two absolutely terrific, infectious and assertive solo records in the last few years. The brand new Playland, while sounding quite similar in many places to The Messenger, his 2013 effort, may be even better. While the band is the same and the sound is right where The Messenger left off, there are some notable, if subtle changes here.
First off, I don't recall icy keyboards that could've been on a record by The Sound were so prominent in his work before, but opener "Back in the Box" and the title track certainly have it. They are fit in amongst tunes that could have been on an album by The Rifles, a great mod-revival/Brit-pop group who are under-recognized but who should be huge. This is a combination that works wonders.
While "Candidate" is (at least vaguely) the most Smiths-like song on the album, Playland is a record that is determined to be taken on its own and not live with the shadow of his former band. Thus, "The Trap" pays tribute (at least sonically) to fellow Mancunians New Order's early material while also hinting at Wire's poppier side (think "The 15th" or "Outdoor Miner" or maybe even "Kidney Bingos").
All in all, this is a hard-charging, up-tempo record with only small breaks in its mood ("Candidate" is an example). It's also worth noting that Marr is gaining confidence as a vocalist. I look forward to seeing him play live to see if this new found confidence, so apparent on this record, will, also translates to his skills as a frontman.
And finally, I must say that it boggles my mind that much-read entities like Pitchfork and Rolling Stone have panned this album. I wonder if they were hearing the same record I was or if they're just upset that this isn't a Smiths record.