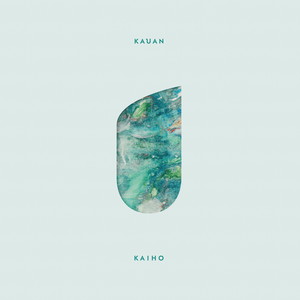 24 September 2017
KAUAN is a Russian group that hail from Chelyabinsk at the foot of the Ural Mountains. Their songs are layered with introspection and dreamy but expansive soundscapes. There is both darkness and hope in these compositions, mostly instrumental but sprinkled throughout with vocals. All lyrics were contributed by Finnish folk singer Marja Mattlar and are sung in the same language. Founding member and songwriter Anton Belov moves slightly past the reverb heavy music heard on their 2009 debut Aava Tuulen Maa and treats listeners to serene, transformative music that sends the listener on a journey. As with all music of this type, the listener should be engaged with the music to the point where lush pictures form in their mind. At least, that is how I approach music like this, even while this music is competing with the din of a busy coffee house. Kaiho is the group's eighth album, and it's the perfect footstep into autumn, as it surrounds you with silvery, cool notes, like the splash of a mountain waterfall as it hits the rocks below.
The opener "Lapsenmuisto" is both familiar and exotic as it unfolds. It has a deceptively simple main melody, which is meshed with dappled musical layers, with piano and synths at the forefront. "Kasvot" has gentle, hushed vocals that perfectly suit this somber but majestic tune, and the language barrier matters not. I love how the band dials it down to just an acoustic guitar at one point before adding back percussion and other instruments. Nicely done! "Siiville Nousu" is piano-dominant, and each note caresses my ears with watery droplets. There are both male and female vocals floating through, and it all sounds inspiring and wonderful. "Lahja" is the longest song here, and it's a dash of modern classical that melds perfectly with the post rock stylings this band creates so effortlessly. It's the perfect soundtrack for a drowsy, summer day, or even transitioning into fall, leaves drifting on the river and winding out of sight. It's effervescent and mysterious, and its continuously shifting variations keep you engaged. "Nainen", at half the length, is reflective and lovely, while the stately "Sateen Huuhtoma" has storm sounds rippling through, beaten back by plaintive piano and vocals. It is keenly felt, hitting the emotions hard. I cannot possibly know what the words mean, but I feel the emotions all the same. Brilliant! The title track is a miniature, ambient masterpiece, and it ends all too soon. In summary, this is a sublime collection of music, arranged meticulously and exquisitely rendered. Fans of multiple genres, including ambient and modern classical, will greatly enjoy this release.
Pick up the album over at Bandcamp and catch up with the band on their Facebook page.