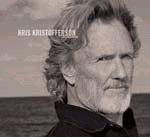 10 April 2006
First things first: KRIS KRISTOFFERSON's voice is no better than it ever was. But he's learned how to use it better; his phrasing's more expressive, and he's more subtle. Also, an old man's voice—he's 69 now—just naturally seems to have more character; now its cragginess has mellowed enough that it perfectly matches his dry wit.
Anyway, nobody listens to KK's albums for the singing. He's one of the greatest songwriters in country music (and the only one with a master's degree in English literature from Oxford). He penned his first hit forty years ago ("Viet Nam Blues," a Country Top 20 for DAVE DUDLEY in April 1966), and he's only gotten better. Much of this album of new songs (his first composed entirely of new originals in eleven years) presents them simply and directly, as he accompanies himself on acoustic guitar (and occasionally adds a bit of Dylanesque harmonica). Nowhere is he more blunt and economical in delivery than on "In the News," where he mourns tragedies ranging from the intimate to the international, notes that "Everyone says God is on his side," and goes on to proclaim, "Don't blame God, I swear to God I heard him say / 'Not in my name, not on my ground / I want nothing but the ending of the war / No more killing, or it's over / And the mystery won't matter anymore.'"
Not that Kristofferson's self-righteous, as shown by the way he turns the implicit accusations in "The Burden of Freedom" back against himself in a gut-wrenching twist at the end. Similarly, when he catalogs someone's mistakes in "Chase the Feeling," it's from the perspective of having made all the same mistakes himself. And sonically speaking, there are a few fleshed-out arrangements; STEPHEN BRUTON adds guitar, mandolin, and harmony vocals, and sometimes they're joined by drummer JIM KELTNER and producer DON WAS (acoustic bass, piano). But it's Kristofferson's show the whole way, and quite a tour de force.