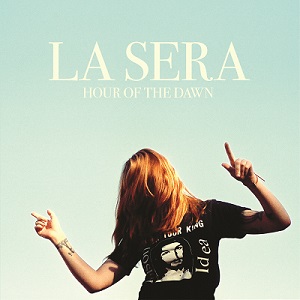 9 May 2014
I absolutely loved (and still love) La Sera's last album, 2012's Sees the Light (see my review here) and I had also heard rumblings (with subsequent raves from those who had heard it) about this LP being completed for months before I actually heard it, so to say that I was looking forward to hearing it would be a strong understatement.
In all of the press I read about the album, the relative aggression of the album, especially in relation to singer-songwriter Katy Goodman's mellower, sadder earlier works under her nom de plume La Sera, was stressed. Goodman even said "I didn't want it to be another record of me sad, alone in my room. I wanted to have fun playing music and writing songs with a band." While she and her band (comprised of new members Todd Wisenbaker, Greta Morgan and Nate Lotz; note: Morgan also plays with Goodman in Books of Love, whose bandcamp page is here) certainly accomplish this on Hour of the Dawn, the press is a bit misleading. When your lead-off track is called "Losing to the Dark" and chronicles the sadness and frustration of a lover's decay from nightly alcohol and drug abuse, this isn't exactly "Joy to the World."
Still, the music on this track is indeed faster and more aggressive than anything La Sera has done to date and like she does on some other cuts on the album, Goodman sounds more enraged than wistful. And like so much classic pop, it combines cheery, upbeat melodies with lyrics evoking the many struggles of everyday life. It's not a coincidence that in that same press release, Goodman also said that she wanted the album to sound like "Lesley Gore fronting Black Flag." The Lesley Gore of "You Don't Own Me" may be she's going for here, but at heart I think she knows that even the bouncy "It's My Party" is lyrically a sad song with its references to crying.
After "Losing to the Dark," the pace settles down a bit with the jangly, Roy Orbison-like "Summer of Love" before ace guitarist Wisenbaker unleashes a great Billy Zoom-like riff to open "Running Wild," another tale of a wayward lover. The "go go go go" vocal part that then launches into the solo is a particular highlight. Wow.
Elsewhere, the title track, "Kiss This Town Away" (yet another track that references LA bar life of the young, wild and free) and "Control" are all further highlights of this consistently great album. There's even a track oddly called "10 Headed Goat Wizard" though as far as I can tell it has nothing to do with heavy metal or gaming (though Goodman is into the latter). And don't miss the gorgeous, Smiths-like "Fall in Place."
Perhaps there is so much drama on the rest of the album that closing with the instrumental (though it features ghostly harmonies from each band member) "Storm's End" is appropriate here. And like the title implies, there is much more going on here than meets the surface. In short, this is one of 2014's best albums and perhaps La Sera's best work yet. I can't wait to see this album played live and to hear what else Goodman and her absolutely crack band have in store for us.