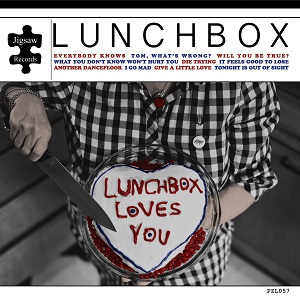 14 August 2014
Having changed their name back to Lunchbox after releasing an album as Bird of California last year on Jigsaw, the Oakland, CA-based duo of Tim Brown and Donna McKean (both members of Hard Left) finally release their third full-length release under their proper moniker.
Lunchbox Loves You draws heavily from the psychedelic soft pop Nuggets of the '60s where each song cheerfully jaunts through the park with your significant other whether the subject is losing at life or your cat. Sing-song melodies blend with fuzzy, jangling guitars and the occasional horns, keyboards or even flute for an effect somewhere between The Beach Boys and very early Stereolab. Rough and raw, yet lushly dreamy, these tracks conjure the hook-laden power-pop of Guided By Voices while frolicking in the foliage of The Association, The Vogues and The Looking Glass.
When the drudgery of life becomes overwhelming, it's nice to hear that good things can actually come true. Bask in the bubblegum positivity of Lunchbox for that feelgood high.