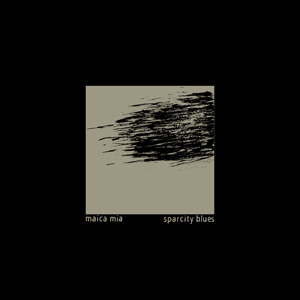 16 December 2012
It's been a long time coming, me giving some love to this record. First of all, if you are among the lucky and driven you can pick up one of the few copies on vinyl, it's really worth it, those who worked on it really know their stuff and the wax version of this slow-core masterpiece really does sound best.
Maica Mia, Plateau native and long-time collaborator within this small but distinct community of musicians that have brought us great bands such as Key of K and There Is Still Time… Brother, is the center of gravity here on her first full length album. Joined by drummer/beau John B and a smattering of other players, Sparcity Blues is an apt title as it is indeed a sparse and blue-tinged creation.
Revelling in the same snail's pace that makes early Low or Whites Off Earth Now era Cowboy Junkies so compelling and atmospherically unique, Sparcity also carries a hefty imprint of the early 80s San Fran-based Paisley Underground sound, tying DNA with such bands as Rain Parade, Dream Syndicate and Opal. Touching on all these but of course standing firm on her own very strong palace of song, Maica knows exactly where to attack, where to build tension and where to release it, offsetting the songs' glacial pace. That's the trick, suspending your mind inside the time of the song as shiny bits are slowly but deftly revealed, as opposed to being dragged along forcefully by the scruff of one's patience.
Opener "Don't Let Call" has a mystical country feel to it, Maica's voice invoking some torchy Gillian Welch power, deep and pensive guitar stroking rolls thunderous ambient sounds over the horizon until drums bring it all home in the last minute. "Missing Man" comes next as one of the most purely mesmerizing tunes on the record, simply Maica's elegiac voice over some basic, brushed electric guitar singing slow but clearly and with candor about things the listener barely feels the right to be privy to. From there we grow quieter and acoustic on the almost self-deprecatory "Funny way of Laughing", a lilting kiss-off tune that keeps tongue in cheek while still standing firm and resolute. "Swollen eyes" makes us second guess the prior statement of song, if we choose (as I did) to hear the album through as a narrative arc, as it's darkness eats everything in a droning indigo-tinged descent into sadness and grandeur, an elegy to the end of things, with subtleties like train sounds, farfisa drones and dropped in drums that as most adornments on this slice of dark beauty hang from Maica's pensive strumming and powerful, bell-clear vocals. "Sciatic Summer" descends one level further into the haze, a seven minute meditation on pain and yearning (physical/spiritual/existential.. it's all here if you wish to hear into it..) featuring a carefully sculpted feedback drone sliced here and there with a refracted vocal line or a well placed strum. Penultimate closer "Girl" is a surprising Beatles cover that adds way more ennui to the mix than the original, inflecting it with much of the same melancholic treatment the Cowboy Junkies lent to their cover of "Sweet Jane". Album closer turns out to be an upbeat rocking garage tune sung, with attitude, in Polish, as if with "Dawaj Reke", Maica is showing us that she could crank it up to full speed if she felt like it, anytime.
Taken as an album, "Sparcity Blues" does not smack you about the face with immediate gratification, but instead invites the patient, the worthy and the intrepid among us into it's heady, sensual and darkly shaded world of wonders. Most of these songs crackle and spark with tension and at it's best suggests huge spires of vision, emotion and dreams churning just out of sight. Like the songs themselves are shadow puppets, projected on the ear by a light almost too bright to face and instead we listen alongside Maica's reassuring strum and wail to the patterns they make as they reflect and refract on the mind, soul and imagination. A strong, daring and highly successful album by a bright and unique talent, buy it on vinyl if you can find it!