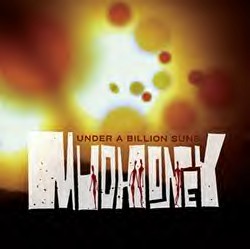 12 March 2006
Going as strong as ever, 18 years after their first recording was released, Seattle's long-lasting grunge heroes have tweaked their formula with excellent results. Singer/guitarist MARK ARM's time filling the vocal spot in MC5 the last couple of years seems to have influenced both his outlook and his music.
Arm's lyrics now sometimes deal with socio-political topics: the opening "Where Is the Future" questions the idea of progress, "Empty Shells" criticizes the increasing vapidness of our consumer culture, "It Is Us" refuses to let anyone off the hook for our problems, and "Hard-On for War" takes on a timeless topic with rude humor (basically, it's a weird come-on saying, all these guys are dying overseas for our way of life, so let's get down to the job of replacing them). Arm's talent for turning a catchy phrase yields such gems as "Like radiation, love lingers on / long after the damage is done" ("I Saw the Light").
Musically, this is arguably as good as MUDHONEY's ever been, not because of the addition of horn arrangements by CRAIG FLORY (though they wonderfully reach back to the group's '60s influences – and yes, they recall the horns I heard the MC5 use last year), but because Arm, lead guitarist STEVE TURNER, bassist GUY MADDISON, and drummer DAN PETERS—who's a little funkier than he used to be – are tighter than ever, and just that much more imaginative in the deployment of their limited resources that there's just enough variety here that the album never starts sounding repetitious.
You might think Mudhoney's time is past, that this old band doesn't matter anymore. (I admit I hadn't thought about them in awhile.) Well, Under a Billion Suns blows that idea away. It came out Tuesday (3/7/06) and I already love it.