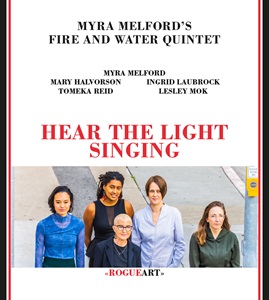 3 November 2023
Being the genius she is, pianist/composer Myra Melford rarely (never?) misses the mark whenever she tries something new, which is often. That's definitely been the case with the Fire and Water Quintet, a gathering of especially remarkable players, all leaders in their own projects, to perform a suite of music inspired by the drawings of Cy Twombly. Last year's debut For the Love of Fire and Water instantly put the Quintet into the top tier of twenty-first century working groups, and Hear the Light Singing will ensure it stays there.
Adding drummer Lesley Mok to the ensemble of guitarist Mary Halvorson, cellist Tomeka Reid, and saxophonist Ingrid Laubrock, Melford shifts direction a bit here, moving from composing for what she imagined these musicians could do to, after a year of touring, knowing what they can do. Each member sends a message in at least one of these five songs, but ultimately each piece is a group text – Melford writes these tunes with a deep understanding of her partners' modes of communication and plans accordingly. Under her guiding hand, Halvorson, Reid, and Laubrock engage in three way dances that court chaos and worship texture, while Mok lures her cohorts into pocket universes of strange, ever-shifting colors. The pianist herself wanders around the varied arrangements (which aren't afraid of overdubs), joining her pals in unison harmonies, or providing a textural foundation from which everyone else's ideas spring, or sometimes simply laying out entirely. The blend of atmospheric post bop, free jazz, and something like contemporary classical music refines a palette that puts the music in another category entirely.
"Insertion Two" and "Insertion Four" stand as accessible entry points, but to truly grasp what the Fire and Water Quintet is all about, it's necessary to dive right into the deep end of "Insertion Three A + B," a massive ensemble piece that expands and contracts like the universe itself. An ambitious work of powerhouse musicality and sublime beauty, Hear the Light Singing roils, dreams, baffles, shimmers, scrapes, and, ultimately, mesmerizes.