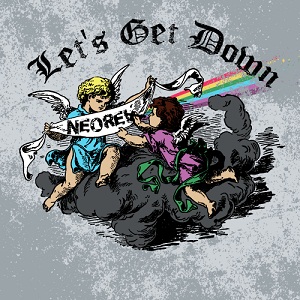 26 September 2012
Once again, Neorev returns with music so astonishingly excellent that one truly has to wonder why Michael Matteo isn't one of the top electronic producers of the moment.
Like the "Brooklyn Stomp" EP, this is an album's worth of remixes, reworkings and exclusive originals, though where "Brooklyn Stomp" was in the present moment with Children of the Bomb, "Let's Get Down" points the way of the future for the electronic artist.
The opening three tracks are reworkings of Neorev tunes by Matteo himself. Here, the plodding industrial dubstep of the title track becomes a booming mid-paced dance track, while "Brooklyn Stomp" transforms into raging drum & bass. Even "Slaughterhouse," from Neorev's debut Lines & Shapes, breathes new life as sinister, shadow-laden dubstep.
The following three exclusive new tracks not only indicate Neorev's direction, but are absolutely some of his best tracks to date. Where "Proper Funkage" recalls the psychotic pounding of Superstar DJ Keoki, "Boom!" takes orgasmic electronics to a whole new level, creating something between Kraftwerk and Leftfield. "Solstice" calms things down a bit with a mellow beat and a pulsing drone, like Stereolab doing music for an old Sega Genesis game, perhaps a Phantasy Star installment.
A series of remixes by various artists follows, each taking a unique approach to Neorev's singular vision while retaining the spirit of the original track. The album version of "Let's Get Down" from Children of the Bomb closes the door, reminding us where this all originated.
So much more than a mere vehicle to promote a single, this EP deserves the attention and respect of a full-length release. Longtime fans will revel in the electronic ecstasy of Matteo's futuristic songcraft, though, if you're new to the Neorev dimension, this is an excellent place to begin your journey. Respect the boom.