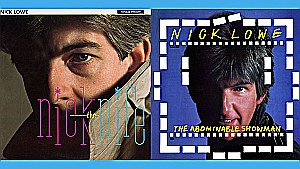 24 October 2017
After reissuing Nick Lowe's first two solo albums in 2008 and 2011, respectively, Yep Roc have expanded their reissue campaign to include his entire '80s catalog. 1982's Nick the Knife is his first post-Rockpile album since that band's breakup in 1981, but Rockpile members Terry Williams and Billy Bremner show up here to lend support. Furthermore, the album's second song is a slowed-down, reggae-infused remake of the Rockpile song "Heart." As such, it's almost like a sequel to both his 1st 2, absolute classic Rockpile-backed solo albums and 1980's Seconds of Pleasure. It also shows him taking the first steps towards the roots-oriented direction he's been mining for the past few decades on songs like "Queen of Sheba" and the gorgeous "Couldn't Love You (Any More Than I Do)." "Too Many Teardrops" hits upon the groove used for The Police's "Every Breath You Take" the following year and makes one wonder if Sting and Andy Summers had heard it while album closer "Zulu Kiss" shows off the Bo Diddley beat and silly lyrics reminiscent of Labour of Lust's "Big Kick, Plain Scrap." This reissue features 3 bonus tracks, including yet another version of "Heart" (a demo) and several non-album tracks.
1983's The Abominable Showman finds him diving into '80s production ala his friend and frequent collaborator Elvis Costello's Punch the Clock (also released that year), complete with backing singers and synths, but arguably its highs (including the absolutely stunning "Raging Eyes," one of his very best songs) are higher than its predecessor even if it's less consistent overall. "Time Wounds All Heals," despite its punny title, is another Lowe classic and "Cool Reaction" shows his reggae influence yet again. There's also another foray into Bo Diddley beat territory ("Tanque Rae"), but overall this feels slightly weaker than its predecessor. This reissue contain the 3 live B-sides of "My Heart Hurts" that were originally released as a double 45 and really add value to the overall package here.
Overall, though, it's a shame that Lowe's '80s period is considered weak by many fans. Hopefully, these reissues will fix that.