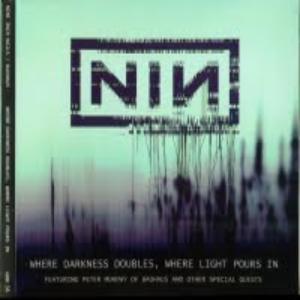 17 July 2010
OK stay with me here. I know what you're probably thinking and to be honest, I'm not really a Nine Inch Nails fan, either. Sure, I admittedly loved Pretty Hate Machine in the early '90s, but to be honest I haven't really kept up with them since. Regardless, I've always respected TRENT REZNOR for his choice of collaborators and his pro-technology and pro-downloading stances over the years.
With all that said, this is an unofficial document of their 2006 tour, when they invited their well-chosen tour openers PETER MURPHY and TV ON THE RADIO's TUNDE ADEBIMPE to sing lead. These are recordings from several different shows on that tour and on most of the tracks, Murphy is the lead singer! Though the prospect of Murphy fronting Nine Inch Nails is interesting on its own, what's even more interesting is the song selection. There are not only the requisite BAUHAUS numbers and even Murphy's own "Strange Kind of Love", but a mini-set of JOY DIVISION songs, THE NORMAL's "Warm Leatherette" and the ROCKET FROM THE TOMBS/PERE UBU song "Final Solution" as well as the IGGY POP/DAVID BOWIE song "Nightclubbing"! As for Tunde, he only sings lead on TVOTR's "Dreams".
All of the above is great, though honestly I can do without Reznor's vocals on the Nine Inch Nails tracks. He sounds like a Vegas lounge singer at times, even on well-known hits like "Head Like a Hole" and "Hurt", of which there are several versions here. Fortunately, these songs only make up a small percentage of this recording. Oh and despite the title, they don't cover TELEVISION's "Marquee Moon" here. Nevertheless, this is still worthwhile to seek out if you're a fan of Nine Inch Nails, Bauhaus or Peter Murphy or even some of the artists that are covered here.