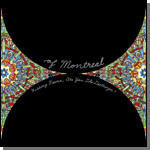 25 February 2007
It's easy to talk about Hissing Fauna, Are You the Destroyer?, their eighth album (more or less), as OF MONTREAL's darkest album…if you're mostly paying attention to lead singer KEVIN BARNES and what he's singing. Touted by Barnes, the band's chief member, as his most personal album, a fact widely repeated by the press, Hissing Fauna has the mark of depression, confusion and uncertainty on it. "C'mon mood shift / shift back to good again," he pleads a few songs in, trying in vein to convince himself. And much of the album has the feeling of an internal dialogue within a troubled soul, feeling constrained by societal conventions (religion among them), by difficulties of relating to others, by mixed feelings about everything. In "A Sentence of Sorts in Kongsvinger" he states the album's narrative most directly: "I spent the winter on the verge of a total breakdown."
Hissing Fauna is the artistic representation of that breakdown. Importantly, though, the sound of the album is not the stereotypical doom-and-gloom. Though Barnes' singing voice is more tormented than ever, musically the album continues the eclectic dance-party tone of the first half of their last album The Sunlandic Twins (2005), and much of the album before it, Satanic Panic in the Attic (2004). In a lot of ways, Hissing Fauna is their most energetic album yet, and also the most progressively pop, with pop-rock melodies layered within a kaleidoscope built from electro-pop, hip-hop beats, dub reggae nods, club moods and funked-up soul. It's a testament to the album's brilliance that it resembles both a party and self-examination. It's more sharply probing than most albums described as 'introspective', yet introspective it is. Pain and confusion emerges within each song, even though many of them are unbelievably catchy, inspiring in their uplift.
The inner conflict of the album comes to a head around halfway through, with the 12-minute centerpiece "The Past Is a Grotesque Animal". The darkest song musically on the album (showing Barnes has also perhaps been listening to THE CURE, ECHO AND THE BUNNYMEN, DEPECHE MODE), it resembles a moment of exorcism, a cleansing. Coming out the other side, he emerges less tense about the world. The next five songs share the concern of the others – and at times express it in an angrier way – but do so in a more confident way, headstrong but playful. His singing here is ridiculous, from rock n' roll screams to a cartoonish, faux-PRINCE falsetto that's way more ambitious and over-the-top wicked than that of other recent Prince imitators (BECK, ANDRE 3000).
This experimental rebirth within an album already filled with out-there surprises is the icing on the cake. Taken as a whole Hissing Fauna, Are You the Destroyer? is a bizarre and exceedingly pleasurable trip through the ins and outs, ups and downs of the human psyche. It's a highly personal album with the community feeling of a party album. It's Of Montreal's wildest, and best, album yet. It's 2007's first masterpiece.