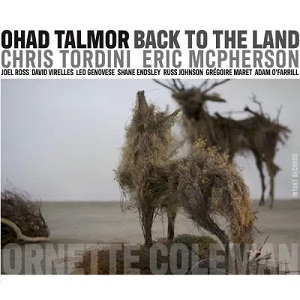 18 October 2023
Swiss saxophonist Ohad Talmor leads bands and has accompanied several greats, proving himself an adventurous, well-rounded player. For Back to the Land, though, he takes on a personal project. While going through the papers of the late saxophone giant Lee Konitz, a longtime mentor, Talmor came across DAT tapes of rough drafts of new Ornette Coleman tunes – so fresh, in fact, that they hadn't been scored, let alone published, and performed only once, at a concert at the 1998 Umbria Jazz Festival.
Not wanting this music to be lost, Talmor painstakingly transcribed the pieces as best he could, created his own original variations on the original melodies, tossed in two Dewey Redman songs, and assembled a gang of trusted compadres to bring it all to life in the studio. Joined in the main by his regular working sidepeople Chris Tordini (basses) and Eric McPherson (drums), Talmore also lured pianists David Virelles and Leo Genovese, vibraphonist Joel Ross, trumpeters Shane Endsley, Russ Johnson, and Adam O'Farrill, bass clarinetist Denis Lee, and harmoncat Grégoire Maret to the party as well.
Inspired by Talmor's love of Coleman's late eighties masterpiece In All Languages, in which each disk was devoted to either acoustic or electric music, Talmore similarly divides the aesthetic here, bisecting his double album into an acoustic half and an electronic half. Disk one leans heaviest on Coleman tunes, as Talmore clearly grasps the master's take on harmelodic jazz, while still injecting enough of his own ideas to avoid merely copying the free jazz pioneer. Disk two more freely blends Coleman and Talmor's tunes, connected by both the latter's deep understanding of his unseen mentor, and by synthesized sound designs that act as interstitials and extra textures. The fourteen tracks also form an extended suite, making more sense played all in one go than as individual songs. Both disks feel fully realized and expertly executed, as Talmor takes his vision of Coleman into his own realm, creating a striking work that both pays homage to a jazz master and extends the dream.