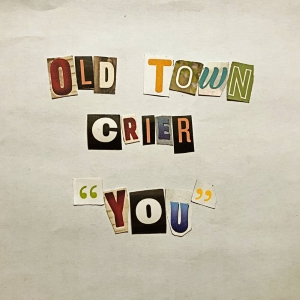 14 January 2023
I recently asked Jim Lough, the man behind the Massachusetts-based Old Town Crier, to tell Big Takeover readers more about his music. For the uninitiated, OTC brings to mind an amalgam of later-period Beatles and early 70's Stones. Other influences seep in to Jim's music too, as you'll read and hear for yourself.
David: Who are your key musical influences from the past and the present?
The EP's title track "You" has this wonderful archetypal 60's sound and song construction.
As I was listening over Christmas, it reminded me a bit of U2's "Christmas (Baby Please Come Home) version (written by Ellie Greenwich, Jeff Barry, and Phil Spector).
With the new EP, in addition to Beatles/Stones, the prominent keyboards also remind of early Elvis Costello & The Attractions. I'm thinking "Pump It Up", which itself is inspired by another song/artist OTC reminds me of, "Subterranean Homesick Blues" (Bob Dylan).
Jim: My main influences are definitely The Beatles and The Rolling Stones. "Exile on Main St." (Rolling Stones, 1972) is my Bible. I listen to everything though. I love punk rock, noise, hip hop, folk, world music. You name it. One influence that may not be apparent is that of the late, great Notorious B.I.G.. I think in general my music is subconsciously influenced by hip hop, since I grew up hearing it. But more than that, I consciously try to use similar rhyme schemes, storytelling, alliteration, slant rhymes, and vocal rhythms to that of my lyrical hero, Biggie Smalls. I think stitching that influence into traditional rock, even if unrecognizable, makes for a unique sound. My lyrics are never abstract because of his influence.
Another is Frank Zappa. Although [Mothers of Invention's] "Freak Out" (Verve, 1966) is one of my all favorites, I don't care for a lot of his music, and I'm sure he wouldn't care for mine. But I admire his attitude, work ethic, and his overall approach to making art. In these terms, he's my main artistic role model. He was a monument to limitless self-expression and nonconformity, and I base my overarching artistic vision and goals on the groundwork that he laid.
David: For those who don't know you, including me, can you tell us a bit about your musical journey? Were you in bands prior to Old Town Crier? How did your 2 EPs come about in 2021 and 2022? Were they a long time coming or more immediate/spontaneous?
Jim: I learned to play guitar around age eight and started writing songs around age 12. I just turned 40 today, actually! I've been in the same acoustic string band, Riley Coyote, for over 10 years. We've enjoyed a strong regional following for some time, although we make a point of not promoting ourselves and only play when asked to. We're kind of a hidden gem and we prefer to keep it that way! I decided to finally start recording all the songs I've written over the last 20 years, and my first 2 EPs are the beginning of that process. I'd never really tried to promote my music before 2021 because I felt like I wasn't ready as an artist. During the pandemic, I was spending a lot of time listening to my demos and mixing previous recordings when I decided that I was finally ready, so I guess it was a long time coming!
David: There's a southern rock sensibility here, too, musically, and in the vocals. This was especially true on the first EP, "I'm Longing for You Honey in Middleboro, Mass" (Self-released, 2021). On this EP, I hear it most on "Coal River Mountain". Can you elaborate on this?
Jim: I'm not sure where that comes from! I love country music and when a country song comes to me, my voice just twangs out like that. I can't help it. I'm a yankee from Massachusetts, so call me a poser if you want, I don't care. You gotta dance like no one's watching!
David: And was there a conscious effort on your part to shift gears away from the first EP's sound/sensibility a bit on the new EP?
Jim: Yes! Thank you for asking. While I'm sure my albums will always be in the general framework of traditional rock/pop, I try to make each one have a slightly different sound. My first EP was an alt-country thing. [The "You" EP] is squarely rock 'n' roll. I like to group my songs together based on their style and feel. My cohort was probably the last that grew up listening to whole albums, so it's very important to me to keep that art form alive. To me, a song belongs to an album. They're not just floating around out there.
David: I love that your latest EP's proceeds have all gone to key 2022 mid-term election candidates. Clearly this is important for you. Have you always been involved in grassroots political support like this?
Jim: No, although I've always held strong opinions, I've never really been involved. I ended up getting in touch with former record exec turned activist, Howie Klein and he asked me to write a few songs for candidates he was promoting. I wrote one new song, "You", and reworked a couple of pieces which I didn't have lyrics for. Eventually it evolved into the "You" EP. I felt like our democracy was truly at stake in the 2022 mid-terms, so I decided to donate all the proceeds to Howie's candidates, who are all awesome, mostly young people trying to make a difference in our country.
David: What's next for Old Town Crier? New EP in the works? Live dates?
Jim: I'm not sure if most people know this or not, but I don't have a band, that's just me multi-tracking on the EPs. So, I don't really play live. But last year I got an offer to play at The Fallout Shelter in Norwood, MA; a venue known for making some of the best live recordings in New England, so I hired a pro band for one night to cut a record! It's coming out February '23, although I haven't announced it yet. I try to always release my albums unexpectedly. Capture the element of surprise! It's a blue-eyed soul type thing and it's all new-to-you material. I'm going for a "sad valentine" vibe, and it sounds totally different from anything I've done before.
Links