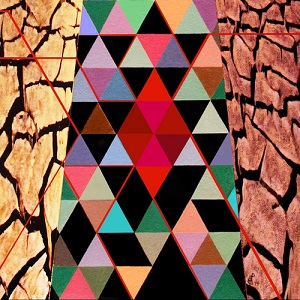 11 December 2015
Formed in 2012, North Jersey progressive hard rock quartet One Hundred Thousand consists of Alex Goldenthal (guitar), Andrew Magnotta (bass), Rich Matos (vocals), and Kurt Wubbenhorst (drums). As its classification connotes, OHT blends hard hitting riffs and steadfast beats with occasionally complex instrumentation and colorful timbres. In 2013, debut EP A World Divided introduced the band as a confident, skilled, and determined outfit worth watching. Fortunately, its follow-up, Rise, cements that promise, as it's a short but sweet collection of killer tracks.
OHT calls Rise "the second EP of the band's three-part debut," and although some of the songs were written a couple years ago, they couldn't complete them until recently, as the band wasn't complete yet. Specifically, Matos came aboard last year, so OHT had to rerecord the vocals for the songs. The extra work was well worth it, though, as he does a fantastic job throughout the sequence.
The disc beings with "Fathoms From This Place," whose initial sonic reverberations, shimmering percussion, and sustained electric guitar notes bask listeners in an electrifying atmosphere. Soon after, Matos chimes in with an aggressive verse as heavier riffs and syncopation take over. Tonally, he evokes gruff singers like Dave Grohl and David Draiman. While all of it is solid, the true highlight is the ethereal bridge, during which softer harmonies cascade over psychedelic instrumentation. Of course, the chorus is wonderfully biting and catchy too. All in all, this is a great starting point.
"Type Stolen" has a synthy vibe at first, but it's quickly dissolved into a hectic foundation. Overall, this one is a bit more straightforward and less intriguing than its predecessor, with a more commercial approach; nevertheless, it's still engaging (especially with the stellar guitar solo near the end). Surprisingly, "If Only You Could See It" is even more frantic and blistering at times, yet it also balances its ferocity with more delicate passages, demonstrating how well OHT manages dynamic shifts. Magnotta's bass is a standout timbre here, as he keeps things moving with funky rhythms akin to those of Dan Briggs.
Closer "Low" is arguably the most enticing of the bunch. It begins with urgent poignancy, finding Matos belting out impassioned outcries over affective guitar riffs and intricate syncopation. Essentially, this first half is the most emotional part of Rise, and the subsequent instrumental portion is very cool too. Best of all, it closes firing all on cylinders, so listeners will want to start it over again ASAP.
Rise may not be especially unique or original, but its poise, consistency, and drive make it very fetching anyway. One Hundred Thousand sounds remarkably seasoned as both songwriters and composers, and the album, while not being significantly diverse, still managers to balance melodies and musicianship nicely. If you're looking for some quality hard rock with progressive rock edges, Rise should suffice.