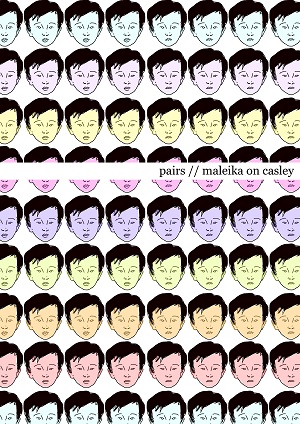 14 July 2014
For their final album, Shanghai, China's Pairs return to their scrappy punk roots for an exciting last statement that marks a high point in the duo's catalog.
Recent releases, like 2013's Your Feet Touch Ground, A Carousel and Brief Lesbian, a collaboration with Reykjavictim from earlier this year, veered off in an experimental electronic direction, but Maleika on Casley builds on Pairs' original sound of fuzzy guitar, drums and ranting vocals, though with the best songwriting of their careers. These tracks are longer, hook-laden amid the dissonant melodies as drummer/vocalist Xiao Zhong contemplates his leaving China with anger, frustration, nostalgia and humor. F.'s guitar builds a great wall of distortion for the drums to attack like Western invaders, her down-strummed chords returning the fire. Quieter moments crop up, like the acoustic "No Birds" and "Nothing But No Hope," which sounds like a traditional drinking song, but this is Pairs, and no matter how determined they are to go out with a dull thud, they can't help but deliver an explosive collection of songs that truly sums up their entire career. To quote Xiao Zhong, "Couldn't have done it better."
All things come to an end, and the time has come for Pairs to lay down and die. They fought, and, judging from their body of work, they won. They will be missed, but they won't be forgotten. 再见朋友.