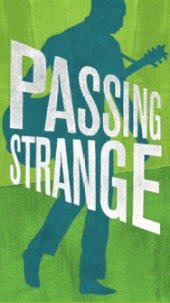 27 May 2007
STEW is finally enjoying the best of both worlds.
The 45 year-old singer-songwriter-guitarist has long attracted critical acclaim—Entertainment Weekly twice picked him for best album of the year—but just limited interest from the public.
Now, Stew's exuberant new rock musical is bringing him more rave reviews (The New York Times, Variety, Newsday) and apparently a broader audience.
As a long-time champion of his work I'm thrilled but not entirely surprised. Stew's (Mark Stewart) charisma, sense of humor, keen awareness of visual presentation and natural rapport with audiences all suggested he'd do well on stage.
The quasi-autobiographical "Passing Strange," at Manhattan's Public Theater through June 3rd, features Stew as the narrator in this coming of stage story set in 1970s Los Angeles. DANIEL BREAKER, as Youth, plays a young Stew in search of identity and truth—or "the real" as he puts it—with the creation of music serving as his guiding light.
Youth leaves a comfortable middle-class existence as a black teenager for Amsterdam then Berlin and returns to the U.S.
With race, sex, music, religion and drugs serving as key themes, Youth repeats an emotional cycle of finding friends, various forms of bliss and finally disillusionment.
All the while, his loving mother (ELSA DAVIS) misses him to no end and calls repeatedly, imploring him to return home, but to no avail. Youth thinks home is elsewhere.
While "Passing Strange" is technically about a young man finding his way in the world, it also seems to be a vehicle through which Stew can make peace with his relationship to his mother.
"Love Like That," a deeply moving song about maternal love that appears on Stew's latest studio album, becomes downright devastating in "Passing Strange." Though the word "closure" is arguably overused, here it resonates.
That said, "Passing Strange" is largely positive and infused with life and plenty of hilarity: "Celibacy is the only sane response to a world gone wild" and "My porno films feature fully clothed men making business deals" are but two of many classic lines.
Though this is considered a rock musical, that description is really inadequate. Rock/ballad/funk/punk/electronic/afro-baroque/avant-garde/cabaret is more like it – a musical stew if you will.
The talented band includes long-time bassist HEIDI RODEWALD who co-wrote the music with Stew.
Criticisms? My understanding is that the 2 1/2 hour show was already tightened a bit. Still, I think it could be trimmed a bit more. Some scenes more than make their point sufficiently.
Also, Stew sings and plays the guitar a fair amount but those unfamiliar with his oeuvre might not appreciate the full extent of his musical prowess by just seeing "Passing Strange."
Often compared to JIMMY WEBB and ARTHUR LEE, Stew has a gift for creating memorable melodies and can convey moods and messages with pinpoint precision. In fact, the COUNTING CROWS' ADAM DURITZ considers Stew to be the best songwriter working today.
While you get a real feel for what makes Stew's music special in "Passing Strange," I think it's best savored in a concert setting where the spotlight shines squarely on it and songs unfurl in their own time and space devoid of other considerations.
However, Stew's skills as a lyricist can fully be appreciated in "Passing Strange." His trenchant observations about the human condition are incisive, funny and often painful. He'll make you smile but wince as he simultaneously cracks you up and reveals dark truths. There's nothing heavy-handed, however, about his approach.
Stew's bittersweet approach of using levity to touch on serious matters is very much in the spirit of CAPTAIN SENSIBLE, another supremely engaging musician-cum-raconteur-commentator-comedian.
Stew's web site