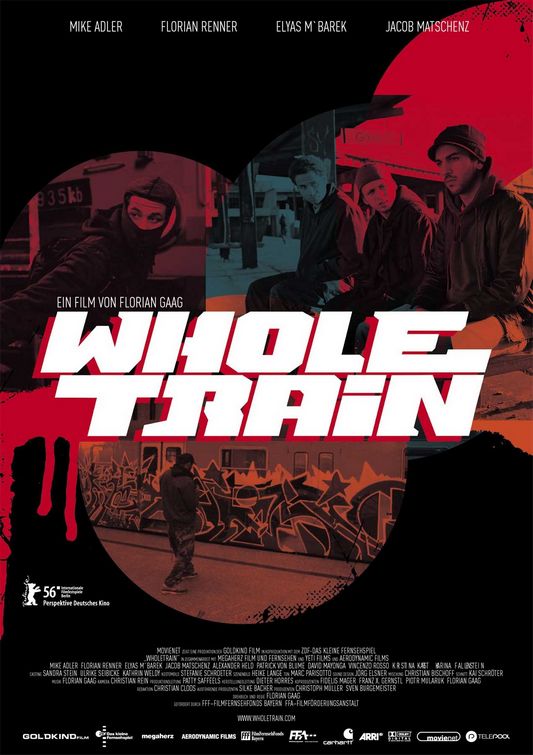 12 April 2007
Continued from Part 2
For the third and final film that we saw during the first weekend of the festival, we picked a film called Wholetrain. It's a German film about a group of graffiti artists from various backgrounds. It's a fascinating film on a number of different levels. First off, director FLORIAN GAAG clearly treats the culture of graffiti art with respect, but not without acknowledging its negative aspects. It makes you side with the protagonists, but doesn't try to hide their flaws, either. On another level it's a sharp retort to the notion that graffiti is not art, but merely crime. For whatever reason, it was falsely labelled as a documentary, though its rough, gritty and realistic feel (all the footage was shot on a hand-held camera) could make one believe that it was in fact a documentary.
In another sense, though, the film is about four friends with their art as just a backdrop. David (played by MIKE ADLER, a former graffiti artist himself) is the leader of the group, in trouble with the law, but with an opportunity to attend art school if he cleans up his act and names his accomplices. Tino (played by FLORIAN
RENNER) lives with his family, though he neglects his young child in favor of a club and party-fueled lifestyle. Elyas (ELYAS M'BAREK) is a Middle Eastern immigrant and lastly, Achim (played by JACOB MATSCHENZ) is the outcast. The youngest of the bunch, he also clearly comes from a more privileged social and economic background than the rest of the crew does, which creates friction between him and the rest of the bunch (especially Elyas).
Gaag was in the audience and took questions from the audience. One woman asked him about his background and he revealed that he'd been a former graffiti writer himself from 1984 until well into the '90s. Another woman commented that this film showed how far hip-hop culture had travelled and on that level, this film is significant as well, showing how far and wide hip-hop (along with graffiti) has spread.