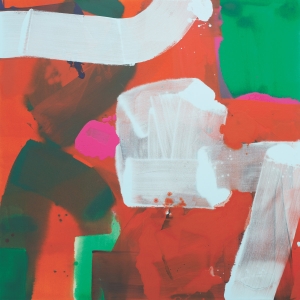 11 March 2023
While only 55, Philip Selway's resume is already impressive. In 2019, he was inducted into the Rock and Roll Hall of Fame as Radiohead's drummer. Since 2010 he's been a solo artist with three albums now under his belt.
Though I was a casual fan of 90's Radiohead albums, it wasn't until 2001 that Selway came on my radar with another venture, as drummer in Neil Finn's collaborative band, 7 Worlds Collide. Later the musicians teamed up on the LP "The Sun Came Out" (Columbia, 2009). For me, Selway's vocal and songwriting abilities stood out. His sparsely beautiful acoustic song "The Ties That Bind Us" was one of the strongest songs on that album.
The next year, the song was re-recorded and appeared on his first solo LP, "Familial" (Bella Union, 2010). On the album, Selway established an engaging songwriting formula/style that didn't change much on the follow up, "Weatherhouse" (Bella Union, 2014). His primary language included his vocals and acoustic guitars paired with stripped back percussive beats and loops, piano, and orchestral backup to produce moody, at times theatric and powerful music.
In 2017, Selway composed a sterling film soundtrack for "Let Me Go". It was here that he clearly found a vehicle to explore, grow, and raise his already well-tuned songwriting bar. The soundtrack captured a variety of spooky orchestral instrumental elements that he harnessed and explored further on his outstanding new solo album, "Strange Dance" (Bella Union, 2023). Ultimately, it's the most cohesive of his solo records, and it's riddled with many of his best songs to date.
The album begins with "Little Things" and a piano melody that actually reminds me of some of Neil Finn's music. But it veers away with subtle strings and horns gently guiding it. In the background there's an ominous hum and what could be sea spray paired with the creaking of a wooden boat bobbing back and forth.
"What Keeps You Awake At Night" is perfect. Clocking at nearly seven minutes, it passes with lightness and ease, somehow ending too soon as the song unravels and disintegrates.
"Check For Signs of Life" is another gem. Selway manages to repeat riffs and rhythms in song structures that may seem simplistic. Instead, this serves to grab the listener. The varying orchestral melodies weave above the song and lift Selway's hushed vocals.
"Picking up Pieces" follows and is clearly a centerpiece track. Up-tempo for Selway, this gorgeous single has a snarly, scrappy guitar riff paired with clipped violin chirps that move in and out of tune to create a bit of vertigo.
The album continues with "The Other Side", a majestic and moving piece. Selway's deft arrangements keep it from veering too close to schmaltz. Similarly, "Make It Go Away" is another sweet song that is as stirring as anything Selway has recorded to date.
Using what appears to be industrial field recordings, Selway adds clunky steampunk gear sounds as another signature of his sound. They permeate the album and on the title track they scrape and pull to produce metallic percussive rhythms.
"The Heart of It All" is a stunner. The sparse intro with eerie violins as a backdrop to Selway's vocals works so well. Beatles -infused melodies build in the final minute of the song.
Thematically the album has a lyrical and emotive feel that is somber, alluding to isolation, change, and death. However, Selway is telling a story, and more so than with other fleeting moments on the record, the LP closes optimistically with the uplifting ballad "There'll Be Better Days".
Links