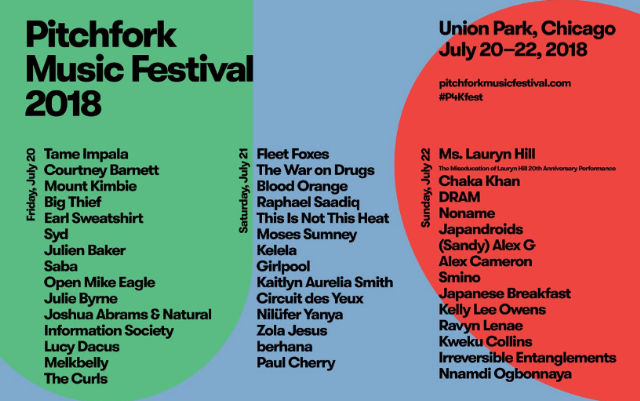 17 July 2018
Late July marks an exciting time for Chicago indie fans. With Lollapalooza just weeks away and a litany of music festivals early in the summer, it may be easy to draw the conclusion that many festival-goers would be conserving their energy for August. Pitchfork continues to defy this trend, gathering tens of thousands of fans to convene in Union Park for a weekend of wonderful music, records and food.
This year marks a particularly exciting year for alternative rock fans. While the same could certainly be said about prior installments, this year suggests less of an emphasis on the R&B/rap scene and moreso on the band side. Earl Sweatshirt recently dropped from the lineup and was later replaced by Tierra Whack, a development that seemed to disappoint many. The rest of the lineup, however, certainly exceeds expectations.
Friday opens with acts like Chicago natives Melkbelly as well as Saba. In the 'absolute must see realm, we have none other than Julien Baker, Big Thief (both of whom made appearances with The National at this years' installment of Eaux Claires) as well as Courtney Barnett, concluding with a much anticipated act by none other than Tame Impala.
Saturday bodes well too, with Moses Sumney and Pitchfork veteran Blood Orange winding into the afternoon, followed by a stunning back to back with The War on Drugs and Fleet Foxes, a conflict that's sure to leave many struggling to decide at which set is best to camp out for (of which I would personally recommend The War on Drugs.
The weekend concludes with an equally strong Sunday, with Ravyn Lenae and Japanese Breakfast in the early afternoon, followed by a surprisingly early set by Noname and DRAM. Attendees will once again have to struggle with choosing prime viewing between Ms. Lauryn Hill and Japandroids (of which I would personally recommend the latter).
Pitchfork promises a host of other fun things, with Vans making a regular appearance, fine food with plenty of vegan options and a vast records and arts fair to peruse in between sets. It's a fantastically laid-back festival if one couldn't already tell by the toddlers often seen running around with far too bulky headphones. Don't let the age range fool you, however. Chicago's prime festival for alternative music will continue to deliver an immersive and fantastic experience for those along the entire spectrum, an opportunity that is far too great to pass up.
For prior years' coverage, you can visit this link: http://bigtakeover.com/author/Connor+Burgess/
3-day passes start at a reasonable $175 with single days at $75 a day. A small price for such a fantastic weekend of music.