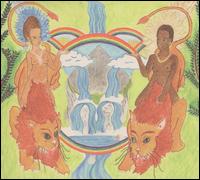 24 September 2009
Rain Machine is a project of TV ON THE RADIO's KYP MALONE. His solo performances at Glasslands in Williamsburg have had fans waiting years for something like this, and he doesn't disappoint. Certainly it's impossible to listen to this album and not be reminded of TVotR at various points, not least because Malone's voice (creatively and vocally) is such an integral part of that band, but if a solo project is to have a reason for being, it must provide the artist with room to stretch out into areas unexplored in his band setting, and Malone certainly does that here.
Some of the songs here seem like folk disguised with electric guitar, beautiful and personal in their expression. There are many highly individual tracks that could only arise away from TV-land, delicately intimate moments that find Malone's wonderful falsetto soaring unfettered. The arrangements are often far more stripped down than on his other gig, which allows the full variety of vocal timbres at his command to be easily enjoyed, though that's not to imply any lessening of power. When the material demands it, Malone switches to a more abrasive, aggressive delivery. The songwriting is superb as well, full of riveting imagery and phrases, memorable melodies, and bold social-political observations.
You don't need to be a TVotR fan to enjoy this album; it's much more than a footnote. Even non-fans should find much of this album attractive and compelling.