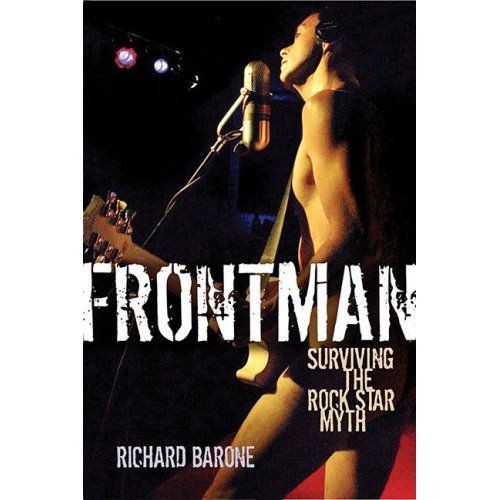 27 November 2007
RICHARD BARONE's autobiography
Frontman: Surving the Rock Star Myth
isn't just a book about music or drugs or sex or fame or any of the other aspects of a typical rock and roll memoir. In all fairness, it has plenty of all of those things, but at its heart lies the age-old notion that any kid with a dream could escape to New York and became a star, even on a minor level, and lead a life heeding one's calling instead of what was expected of you.
The journey begins in Barone's hometown of Tampa, Florida, where at the tender of age 7 he becomes a broadcast DJ. Musically obsessed throughout his adolescence, he eventually forms a proto-punk band called THE SNAILS in 1976 and ends up producing a session for TINY TIM after meeting him at a show he was doing at a roadside hotel. Longing to escape Florida, he settles in a dingy loft in a now trendy area of Brooklyn in the late '70s that was then considered remote and dangerous. He eventually ends up in Hoboken, playing in a, the first band to ever play Maxwells, and forming THE BONGOS, whose story comprises a good chunk of the book. As a fan, it's exhilarating to read the stories about making their landmark first album Drums Along the Hudson all the way up through their dissolution at Compass Point Studios in the Bahamas, where they recorded a still-unreleased album produced by ERIC "ET" THORNGREN before disbanding in 1987.
The story then follows Barone's then-burgeoning solo career and his subsequent career as a show and record producer, working with artists ranging from PEGGY LEE to MOBY and in the meantime curating the Losers' Lounge series of tribute concerts at the now sadly defunct Fez Under Time Cafe. It was through this connection to Moby that this story ends, at least for now, with this year's reissue of Drums Along the Hudson, featuring a new version of "The Bulrushes" with Moby (a longtime fan of the band) doing production duty.
All of this, while important, doesn't really get to the heart of what I really liked about the book. Barone's boundless enthusiasm for the artists who inspired him and his utter love of music comes through loudest and clearest here. He chronicles meetings with heroes and collaborators like Tiny Tim, TONY VISCONTI (who produced his latest solo record) and most of all his biggest inspiration MARC BOLAN (Barone befriended Bolan's wife GLORIA JONES and collaborated with their son ROLAN BOLAN). In addition, he reveals a truly empathetic, optimistic nature that just radiates off of just about every page.
And on a personal note, it was great to read about what Hoboken was like in the late '70s and early '80s since I lived there for about 4 years in much more recent times, when the town had already changed considerably. To newcomers, it may be astonishing to find out that it (and Greenwich Village, where Barone eventually moved to and still resides) was cheap enough for musicians to live in instead of the ridiculously overpriced areas they've become in the last 10-15 years or so. However, the point of the book isn't nostalgia. Barone is clearly a survivor (just check the drug-fueled stories of The Bongos' heyday) and has adapted himself to changing times and for that he should be commended as well.
Regardless, if you love the Hoboken music scene of the early '80s, The Bongos, Richard's solo career or music in general, you should enjoy reading this book. In addition, Barone (along with fellow Bongo ROB NORRIS) is speaking and signing copies of this book at the Hoboken Historical Museum (which currently is running an exhibit about Hoboken's musicians over the years) on December 15th. Plus, if you've never heard The Bongos, you can listen to a few songs from Drums Along the Hudson "here": http://www.drumsalongthehudson.com.