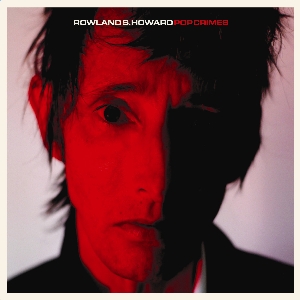 17 August 2014
Released in 2009 on the Liberation label just several months before this legendary Australian guitarist's death at the age of 50 and with original copies going for hundreds (!) of dollars on eBay, the Fat Possum label has done the world (well those of us who love his work with The Boys Next Door, The Birthday Party, Crime and City Solution and his two solo albums, not to mention collaborations with Lydia Lunch and many others) a huge favor by reissuing Rowland S. Howard's last recording on vinyl, CD and digitally as well.
Since it will be unfamiliar to others who are curious, I think that a lengthy description of the tracks is in order here. The first track, "(I Know) A Girl Called Johnny," is (appropriately enough), a duet with Jonnine Standish of HTRK that is sort of in the style of his duet with Lunch on their cover of "Some Velvet Morning." While a fine track, it is indisputably the weakest song on the album. The 9-song opus doesn't really get going until the second track, "Shut Me Down" and then shifts into overdrive with an incredible cover of Talk Talk's "Life's What You Make It" (from their 1986 album The Colour of Spring), the first of two covers here. The other is Townes Van Zandt's "Nothin'" which is also given the epic, droning, pent-up Howard treatment to great effect.
It all culminates with "The Golden Age of Bloodshed," a track that is perhaps the finest in his entire discography and a worthy tribute to and successor to The Velvet Underground's "All Tomorrow's Parties," a song which it takes the main riff from. Not only does it continue to show The Velvet Underground's pervasive influence on so much great underground music, but it also shows that in the right hands, the template can be added to with color and flourish, not just slavishly copied. Though Howard is sadly no longer with us, we can hope that at least in the sense of his musical influence (Dee Dee Penny of Dum Dum Girls is an avowed fan), the circle will never be unbroken in that he will continue to influence younger artists just like The Velvet Underground and The Stooges influenced him.
You can listen to the title track here.

Now how about a reissue of 1999's Teenage Snuff Film?