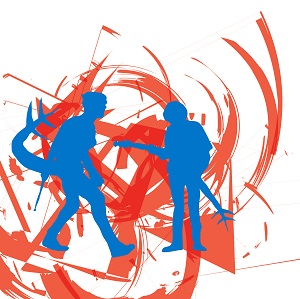 18 March 2014
Shanghai, China's Pairs are back, this time with compatriots Stegasaurus?, for a twisted little split where they cover each others' songs and toss in an original to boot.
For their "side" (it's a digital release), Stegosaurus? drop their neo-prog punk comedy act to transform Pairs' "Oh Ghost" into a stomping trash rock barn-burner and the 44 second "I Wanna Die in the Ocean" into a near-three-minute drunk punk singalong. Their original offering, "Can You Hear My Guitar?" blasts forth with a furious garage punk fury complete with trippy delayed guitar solos. Hopefully they continue in this mode as they're damn good at it and we don't need another Dickies anyway.
Pairs, on the other hand, turn Stegosaurus?'s succinct "Dance or Die" into a seven-minute dreamy, hypnotic wave of psychedelic repetition. "Stinky Tofu" goes even further, spanning over eleven minutes and sounding like Cabaret Voltaire playing with a black metal riff. Never predictable, "Parasite," their original track, goes completely minimalistic with just guitar and vocals, delivering some of Xiao Zhong's most bitter, scathing lyrics to date punctuated by F.'s emotional, but aggressive, playing.
When indie rock is just dull, you've heard it all in punk rock and another singer-songwriter sounds about as appealing as an enema, turn to some Shanghai bands for a change of pace. You just might like them.