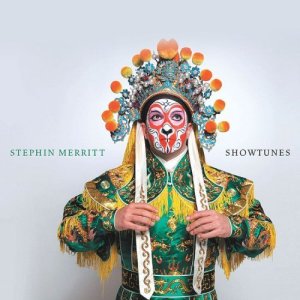 28 March 2006
Showtunes is the right name for the newest album from songwriter STEPHIN MERRITT, of THE MAGNETIC FIELDS (and various other pseudonymous acts, including THE SIXTHS, FUTURE BIBLE HEROES, and THE GOTHIC ARCHIES). It's the right name because it simply states the fact of it: this is Merritt writing songs for actual works of theatre instead of imaginary ones. Showtunes is music written for shows—it compiles songs from the stage recordings of the three CHEN SHI-ZHENG-directed operas for which he was commissioned to write music.
Merritt began his career writing some of the saddest songs you'll ever hear, and getting someone else to sing them. So perhaps he was paving the road to musical theatre from the start, although this notion was only cemented through the more overtly theatrical songwriting of the Magnetic Fields' 1999 epic 69 Love Songs. That work rightly drew comparisons between Merritt and legendary American songwriters like COLE PORTER and GEORGE GERSHWIN—who, it's important to remember, also wrote for the stage.
These lofty comparisons were earned through the intelligence and wit of Merritt's lyrics and his way with song composition, a skill that gives the songs a universal quality, making listeners imagine that the songs could be sung and interpreted for decades. All of these qualities apply as well to the songs on Showtunes, though the musical-theatre setting may at first throw fans who are used to experiencing Merritt's songs in the setting of a modern-day pop album, recorded in the studio.
The vocalists on Showtunes are obviously those who sang on stage, including some of the singers from 69 Love Songs (SHIRLEY SIMMS, DUDLEY KLUTE), JON DEROSA (of AARKTICA and PALE HORSE AND RIDER), actor DAVID PATRICK KELLY, and many other singers who aren't Stephin Merritt. Some songs are sung by choruses, some are sung by actors obviously playing a part—singing either in falsetto or in some other affected voice. There's an Asian aesthetic to much of the music, which is fitting considering that two of the operas are based on Chinese plays (the third is based on HANS CHRISTIAN ANDERSEN's fairy tales).
Merritt's songwriting style is unmistakable, and several of these songs would fit snugly onto a Magnetic Fields album if performed and recorded in a different manner. His love for wordplay is of course evident—the song "Ukulele Me!" is one example. So is his dry, often dark, sense of humor. Witness the tyrant singing "What a F***ing Lovely Day": "Ah, the smell of despair! / Is that blood in my hair?" But the songs are also often deeply tragic, and quite sad.
Merritt has always shown a skill at writing songs that spoof their characters while also making you feel for them. He's a pro at love songs where love is viewed as impossible, or a joke, yet the emotions still resonate deeply… or at songs of deep despair that mock the self-importance involved in those feelings yet at the same time make you cry. That's as true here as ever, despite the theatrical nature of the material.
In fact, the boundaries set by the plays seem to stretch Merritt's skills in particular ways. His lyrics are often sparse yet impressive. And he weaves the narratives into his songs in playful ways. By mixing up songs from all three operas, Showtunes keeps the focus on the songs (a full version of each opera can be purchased on iTunes). Showtunes is all about the craft of writing songs, and is yet one more showcase for Merritt's supreme skill.