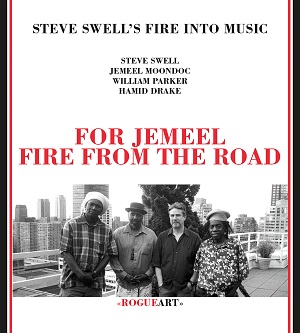 5 April 2023
Trombonist and composer Steve Swell formed the quartet Fire Into Music in 2004 for a tour. Recruiting avant-jazz titans William Parker (bass), Hamid Drake (drums), and lesser known but equally masterful improviser Jemeel Moondoc, the band played gigs for two years before releasing their sole record Swimming in a Galaxy of Goodwill and Sorrow in 2007. Sadly, Moondoc died in 2021 of sickle cell anemia, prompting Swell to round up some of the recordings from the band's tours, and release them as For Jemeel: Fire From the Road in tribute to his fallen friend.
The first disk encompasses a single improvisation, performed at the El Dorado Ballroom in Houston in 2004. For a free jazz improv, there's surprisingly little unfettered chaos – these are musicians who know how to listen to each other, even when things get frenetic. The piece features solo showcases for all the players, with Moondoc traveling furthest from the center, though Parker's extended arco solo raises the temperature. Also captured in 2004, Disk 2 catches the band at a ballroom in Marfa, Texas, with an improvised performance over a half-hour in length bookended by a pair of composed pieces, including Moondoc's "Junka Nu." Like the longtime rhythm partners they are, Parker and Drake groove hard here, providing an alternately swinging and driving backdrop for Moondoc and Swell to work their web-weaving magic. Recorded in 2005 at the Guelph Jazz Festival in Ontario, the third disk sticks to three composed tunes (including another take on "Junka Nu"). The players lean into the inherent bluesiness of the jazz idiom, letting riffs be their guide even when the lines threaten to spin off into orbit.
Everyone involved hits their marks with practiced ease and long-running passion, showing not only adventurous spirits but a deep-rooted chemistry. Not as uneasy a listen as you might think, For Jemeel: Fire From the Road is a fitting tribute to a great, if underrated, musician.