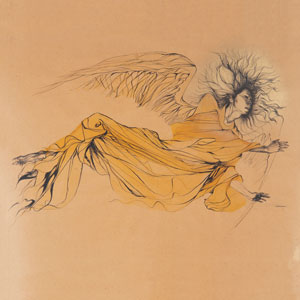 19 April 2016
This magazine is hardly alone in noticing this Norwegian's gigantic voice—for one who sings so benignly, breathily, and bereft of bombast. After all, she's made recordings with Bonnie "Prince" Billy, Led Zeppelin legend John Paul Jones, and Jenny Hval. And underscoring such immense talent, her 2006 covers LP with her old Magical Orchestra (reissued last year), reimagining standards by Joy Division, Bob Dylan, Scott Walker, Leonard Cohen, etc., was exquisite instead of pointless.
Now returning to solo work, she opens floodgates on this 22-song monster, held together by that arresting voice, somewhere between hushed Bjork, '90s Cocteau Twins' Liz Frazier, Astrid Williamson, and Joni Mitchell. It's most remarkable when paired to golden-era 4AD/This Mortal Coil chamber stillness, like the well-named, piano-lightened "Texture Within" (her "Rilkean Heart") or chillier "Shepherd." But she explores many textural, church-like, spacious spiritualties—even Goth flecks, like the opening ("nothing is") "Holy/Sacred. Resonant moodiness/magnificence personified, again. susannasonata.com
Ed. note: This review will appear in The Big Takeover #78, coming soon!