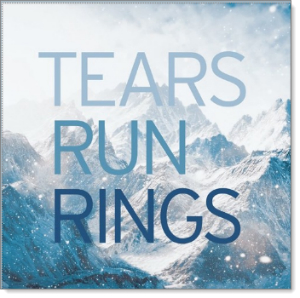 4 December 2016
Ah, a new record from the brilliant dreamgaze band Tears Run Rings, their first in 6 years. Comprised of friends who live scattered between Portland, OR, San Francisco, and LA, the band pieced together this record in between living normal lives (having kids and the like). And what a record it is! The band consists of Dwayne Palasek (drums), Ed Mazzucco (guitar), Laura Watling (vocals/bass), and Matthew Bice (vocals/guitar).
Though it's immediately accessible, there are little turns of melody that are off kilter and asymmetric. It is music best listened to on headphones so you can discern the many layers that make up its beauty. Like "Happiness 6", full of shimmering beauty, wonder, and heavenly vocals. It takes its time waking up, a symptom that is present throughout this marvelous record. "Belly Up" ups the ante with some properly fuzzed out guitar, solid bass lines, and really swell backing vocals. The melody is memorable, and it has one of the best hooks on this record. I like how various band members join in on vocals at different intervals. Sweet!
"Things Have Changed" leans towards dream pop, and at points, I am reminded of the quieter moments of Secret Shine (a high compliment from me) and even Echodrone. Layer upon layer of shimmering guitar start it off, then it is stripped back to bass, vocals, and drums for a bit before the guitars rejoin the mix. It is a highly intoxicating song, one that will cocoon you in billowing waves of sound. "Part of the Glass" is another stunning example of dream pop, containing all the earmarks of the genre: gentle waves of glorious sound, sweet backing vocals, and a sedate, peaceful way about it that takes its time unfolding.
"Green Lakes" is cinematic and windswept, with pretty vocals from Laura hovering over a somber, somewhat disquieting melody. I love the far distant guitar around the 2:00 mark, swooping between gauzy layers and a mesmerizing bass line. It is all done so skillfully and gracefully that it's hard to believe these songs were recorded in three different studios, pieced together over the Internet (much the way that Echodrone records). Laura sings again on the downtempo "Broken", an earthly approach that keeps the whole delicious confection from floating away entirely. "Destroyer" jams some Cocteau Twins styled guitar in with slowly ticking percussion and Laura Watling's formless vocal flying over it all. "Something You Can't Hide" is shoegaze with a post punk edge, if that makes sense. It's not completely strewn with effects, and definitely reminds me of Secret Shine (one of the band's influences). "Sine Wave Sleep" is magnificent and reminiscent of classic Slowdive, inviting you to kick back and revel inside its dreaminess. "Happiness 7" is a slow space drone that mixes up swirling sonics, unearthly sounds, and suddenly blossoms into tripped out psychedelia with that bass line thrumming at its core. Watling joins Bice on backing vocals, a spooky accompaniment to his more straightforward presentation. This song bookends the opening track, and its spectral beauty is a fine way to end this wonderful record. Recommended for all fans of shoegaze, dream pop, and slow core.
Check out the band over on Facebook and buy it digitally over on Bandcamp.