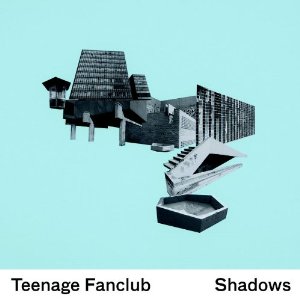 9 June 2010
A lot of the finest Scottish bands burned brightly but briefly; Teenage Fanclub has been a brilliant exception, and Shadows (their ninth album, not counting their made-to-be-rejected instrumental set or their Jad Fair collaboration) appears twenty years after their debut, and five years since their previous release.
The album opens with one of the most beautiful songs in this revered group's impressive catalog, "Sometimes I Don't Need to Believe in Anything." A sort of joyfully melancholy effusion, its verses are powered by their trademark guitar jangle, and then on the chorus the sound blossoms into luscious richness topped by creamy horns. The following "Baby Lee" is similarly arranged, but with strings and synthesizer. The next track finds organ thickly applied. After that comes "Into the City," as grounded in '70s soft-rock stylings as the average Midlake effort, complete with bittersweet vocal harmonies that by the end are chiming and counterpointing in a complex web. Next up, a piano-powered track with spare, dark string adornment.
I guess by now my point has been made: Yes, Teenage Fanclub is incredibly consistent, but there's a huge amount of sonic variety on this album; it's easy to imagine the guys spending five years saying "how about if we add banjo here?" and the like. Lyrically, the songs bounce between profound (though not pretentious or bombastic) ruminations and the frothier love-song norm of power-pop. "Waiting for a friend to call, I'm adrift again" (from "The Past") sums up the overall mood well. If Fanclub albums are now going to appear only every five years, I can live with the wait if the results – as seems likely – are always this good.