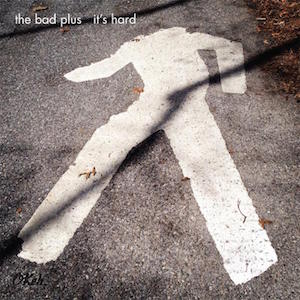 2 September 2016
It's unlikely that acoustic jazz trio The Bad Plus borrowed the title of the Who's 1982 swan-song studio album for this set of craftily deconstructed songs, but several of the selections are drawn from the same era of 80s pop. Calling it a covers album is a feint, anyhow, even if it harkens back to the Bad Plus' landmark early recordings and bracing interpretations of material by artists as disparate as Abba, Rodgers & Hart, and Nirvana.

These aren't groovy jazz-pop interpretations like the Ramsey Lewis Trio's (undeniably fun) takes on "Hang On Sloopy" or "The 'In' Crowd." Nor is it background music for casual listening. These versions find The Bad Plus in full creative and cerebral flight, and active focus is rewarded.

Peter Gabriel's "Games Without Frontiers" rings familiar thanks to the cascading lament comprising its chorus, but pianist Ethan Iverson sends the song into demented free-jazz dissonance during the verses. Drummer David King throws the train shuffle of Johnny Cash's "I Walk the Line" off the rails with unexpected pauses in the groove that are both unnerving and captivating. Cyndi Lauper's pop ballad "Time After Time" serves as the taking-off point for an unhurried and melancholy ramble that maintains a contradictory element of whimsy.

The set includes compositions by a pair of noted jazz saxophonists. Bassist Reid Anderson spurs the chaos of Bill McHenry's "Alfombra Mágica" while maintaining the song's complex foundation for his cartwheeling bandmates. Ornette Coleman's "Broken Shadows" possesses an unfolding beauty, as Iverson's piano provides the structure for King's skittering dance across the traps.

Other '80s subjects include fellow Minnesotan Prince's "The Beautiful Ones" and Crowded House's "Don't Dream It's Over." The Yeah Yeah Yeahs' "Maps" and TV on the Radio's "Staring at the Sun" bring the source material into the new century. "Mandy" is a masterful, freewheeling jazz excursion, and frankly unrecognizable as Barry Manilow's soft-pop hit. The trio even puts flesh and blood on Kraftwerk's icy "The Robots."