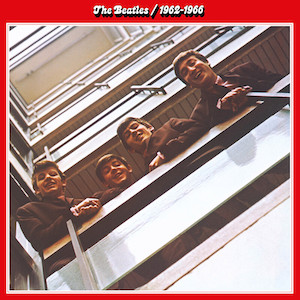 15 November 2023
After all the attention bestowed on "Now and Then," the touching "last" song from The Beatles, there's plenty left to explore in the newly expanded compilations 1962-1966 and 1967-1970. Adding 21 more songs to the original collections, for a total of 75 tracks, these remixed sets are a solid introduction to the Fab Four (though there's no replacing the albums as first released).
The lion's share of the material on 1967-1970 is drawn from recent years' offerings in the ongoing Beatles remix series. Much of 1962-1966, however, comes from previously unreleased 2023 remixes, making it of greater interest. As in previous sets, the sound is generally bigger and brighter, with improved separation and placing of instruments and voices, which could seem pretty primitive on the original albums. Ringo's drums have more punch. Paul's bass and John's rhythm guitar have added depth. The wonderful vocal harmonies have extra texture, with George's underrated singing, in particular, easier to appreciate now. There's something for every fan to enjoy.
Transforming early tracks like "Love Me Do" and "Please Please Me" from mono to stereo underscores their simplicity without any loss of charm. While the stereo update of "She Loves You," arguably the first perfect Beatles record, doesn't improve on the mono, it's still glorious. 1962-1966 now includes half of the 14 songs from Rubber Soul, providing an extensive preview of that album's inevitable remix.
If "Now and Then," the final track on 1967-1970, is a poignant reminder of mortality, that's also true for these two sets as a whole. The music is magical, any way you slice it, but there isn't any more.