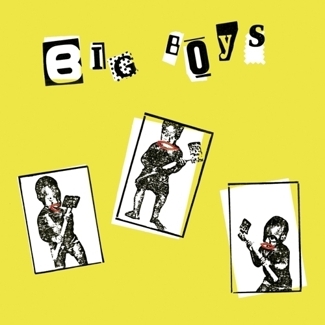 15 March 2013
Ordinarily, I would bristle at paying a "deluxe edition" type price for a reissue of a thirty-two year old, twenty-five minute album with no bonus tracks. However, the debut Lp by Austin, Texas' incredible Big Boys is far from a typical album. In fact, I'd even argue that the Seattle-based label Light in the Attic (who have, in the past, reissued the previously almost completely unknown recordings of Betty Davis, Rodriguez and others) is doing divine work here by making this album available on vinyl for the first time in many years (bootlegs notwithstanding). Modern Classic Recordings (which has also reissued Morphine's Cure for Pain on vinyl for the first time ever in recent years) is a division of Light in the Attic.
Finally, here is Where's My Towel/Industry Standard in all of its ragged glory, on colored vinyl (mine is yellow and there are three other colors available; the whole set is limited to 3,000 copies worldwide), and away from the constraints of the otherwise excellent Touch and Go retrospective The Skinny Elvis (which also includes the long out-of-print and highly sought after "Frat Cars" 7" and the almost as sought-after split live Lp with The Dicks called Live at Raul's Club). Thus, one gets to concentrate on The Big Boys at their early, lean (perhaps) peak (though I've always had a slight preference for the "Fun Fun Fun" 12" EP, which will also be reissued next month, though not by Light in the Attic, and their 2nd Lp Lullabies Make the Brain Grow).
Complete with a lyric sheet, new (albeit limited) liner notes by founding member and guitarist Tim Kerr, a sticker and a gatefold sleeve, this is an absolute treat to look at and to listen to as the sound on here is incredible, too.
So what about the actual music? Well, if you've never heard The Big Boys, this might be a good place to start. Though often lumped in with the early American hardcore movement, their music (at least on this record) is more like what's now called post-punk, with jittery, herky-jerky rhythms inspired as much by soul and funk (which they'd go deeper into on subsequent releases) as by early punk or (by their own admission on this cool video companion) post-punk classics like Wire's 154 or James Chance and the Contortions' Buy the Contortions. The lyrics assail conformity ("Security," "TV" and "Advice" come to mind here) with more applomb than most bands could muster while "Complete Control" and "Work Without Pay" deal with the business side of the music business in a rather explicit way.