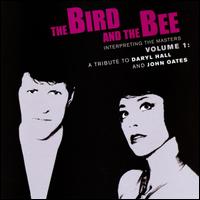 2 May 2010
I have basically ignored THE BIRD AND THE BEE. When I've heard the duo's music, it has been pleasant in so mild and innocuous a way that it's barely distinguishable from boredom. But when I heard about this album, I had to listen. I was happy, for one thing, that HALL & OATES were getting some respect, and it also seemed on the surface that their styles could be well matched.
The first track is not a Hall & Oates song, but rather an original, "Heard It on the Radio," that's presumably about listening to them. It's actually pretty good. The album's all downhill from there, though. All the soul and energy of the H&O versions gets sucked out, and we are left with pallid versions featuring GREG KURSTIN's wimpy, insipid keyboard sounds and the pale, barely emotive vocals of INARA GEORGE.
In a way, this is even worse than that unending series of "string quartet tributes" to everything from Avenged Sevenfold to Nine Inch Nails to Yellowcard, because it doesn't even have kitsch value.