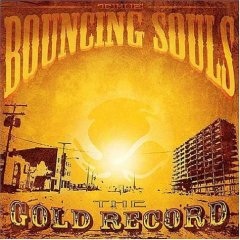 24 July 2006
Almost 20 years into their career, New Jersey's BOUNCING SOULS recently played six consecutive nights at New York City's Knitting Factory. I half-seriously thought about going to at least one gig, but ultimately decided against it.
Now I'm kicking myself—and hard. Why? Because their new album is flat-out fabulous. More about that in a minute. But first, an explanation (or should it be a mea culpa?) for why I didn't go.
I always thought the Bouncing Souls did punk/power pop extremely well, especially on the massive "True Believers" (from 2001 LP How I Spent My Summer Vacation). But the group never was a favorite among favorites. Though they excelled at their particular brand of fire-laced music, I always thought they were capable of doing something more, in essence adding another dimension to their upbeat and anthemic oeuvre.
Well The Gold Record does the trick. As advertised, it is golden and ranks as one of the best records I've heard this year. In fact, I think the band is now well-positioned to reach a far larger audience.
The Gold Record to some extent possesses that old STIFF LITTLE FINGERS magic where you feel empowered to tackle anything the world might throw at you. The record also takes a detour from so many bands by not just criticizing but also celebrating that which is good. From the rousing album opener, "The Gold Song": "...I heard someone say that nothing gold can stay, but there's a love in all our souls and it shines like gold."
Although such an exhortation could seem Hallmark-like in the wrong hands, the Bouncing Souls make it powerful largely due to the passion and sincerity they invest in their music.
But the album offers much more, including GREG ATTONITO's highly impressive singing, fantastic songs and melodies, crisp production, and a mixture of sounds and styles that perfectly complement one other. The first three songs are fast and full of life. "So Jersey" adds a piano that surprisingly fits naturally.
The album's fourth cut, "The Pizza Song," starts with a gently strummed acoustic guitar and later introduces an accordion and then at about the two-minute mark a trumpet enters and fits as smoothly as a silk glove on a cold January night. But then the song abruptly changes and the wonderful melodies continue but in a whole different direction. The songwriting also shows maturity on the excellent "Midnight Mile," where again at about the two-minute mark, the group changes direction to powerful effect.
One of the best songs is "Sarah Saturday," an infectiously catchy scorcher. In addition to its impressive velocity, this song and much of the album highlight BRYAN KIENLENS's insistent bass playing, mixed high up in the mix. In fact, you can hear all the instruments very clearly and crisply throughout the record. Producer TED HUTT did a great job.
Another winner is "Better Things," a cover of THE KINKS' song, which also is an ideal showcase for Attonito's greatly improved singing. To be precise, nothing was wrong with it in the past. It's just that on this record he showcases his full range of vocal chops. Another cover, AVOID ONE THING's "Lean on Sheena," is also a winner.
On "Letter From Iraq," the moving lyrics are written by GARETT REPPENHAGEN, an Iraq War veteran: "Presents full of Christmas loot, all that's left of bullet Billy is a pair of bloody boots. His mom is on the phone, his girl is all alone. We all stand in the rain for a 21-gun salute."
The only dud is "The Messenger," a pedestrian and repetitive song. An unexpected harmonica does nothing to save this constipated clunker. If only the Souls bounced this tune from the album, the LP's golden sheen would shine even brighter.
To my ears, the group has evolved in an incredibly graceful manner. If you were told that the Bouncing Souls would have acoustic guitars, keyboards, harmonicas, accordions, and trumpets on their new record, you couldn't be blamed for being skeptical if not dismissive. But The Gold Record is triumphant, uplifting and worthy of its Olympics referencing title.
Its message of hope isn't just sung. You can feel the intensity and dogged optimism burst through song after song. At a time when there's so much to be upset about in the world, it's easy to feel pessimistic, which makes this record all the more powerful and unexpected.
Discuss this review in The Big Takeover Forum