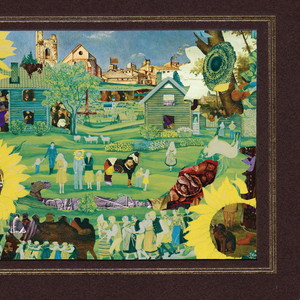 15 January 2018
Whatever you're expecting with this fine new release from Melbourne band The Citradels, it's not one size fits all psychedelia. They manage to mash up a wide variety of styles, ranging from the paisley vibes of "Believe and Receive" to the stellar, Beach-Boys infused "Dawn Chorus", with its gorgeous harmonies and gentle melodic warmth.
The lead-in track "Hill Out of Town" bears a passing resemblance to their forebears in Brian Jonestown Massacre, but it's simpler and more direct in construct. I like the way the beat chugs along, a friendly welcoming track to suck you into a rabbit hole of sound! "Holy Ghost" is an unexpected delight, replete with church organ and solemn voices. Then the sound takes on more of a Phantom of the Opera sound, and it works wonderfully well. "God Bless" is even stranger, starting off with a spoken word monologue over bubbling space rock and then morphing into hand claps and doo wop vocals. Cool stuff!
"Roman Holiday" actually reminds me a bit of The Monochrome Set circa Love Zombies, with a neat melody and a '67 Love feel. Lyrics are easy to follow and rather fun in spots. "GRC" is groovy 1967 all over again, with its spacey undercurrent and some wonderful vocal harmonies up front in the mix. "Saint David" employs brass to good effect, and it works well in the context of chiming guitars and pretty vocals. "Uncle Arthur" takes a page from the Syd Barrett playbook and I cannot help but think of Bewitched. The song's slightly twee vibe also gives a nod to the great Television Personalities, for this is the sort of song they might write. "Holy Water" is a slight instrumental break with a churchey feel, while the trippy "Milk and Honey" will entice the listener with its eccentric twists and turns. "Sunday Best" wouldn't be out of place on the VIllage Green album, as it transports you back to a simpler and happier time. I for one greatly enjoy these trips down memory lane, thanks to the wonderful work of The Citradels on this release. Highly recommended!
Pick up the album over on Bandcamp and catch up with the band on Facebook.