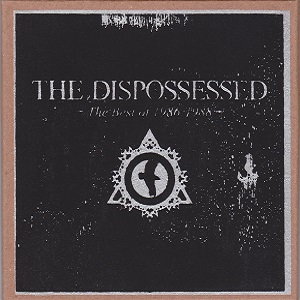 15 August 2013
Connecticut is known more for spawning The Carpenters and Moby than UK-fueled goth rock, but in the mid-80s, The Dispossessed, from Hartford, made their mark with their own vision of dreamy death rock. This 14-song collection compiles tracks from that period, as well as two recordings from a 2003 reunion.
Right from the opening "Kingdom Kingdom," The Dispossessed's sound is abundantly clear. Their songs blended The Damned, The Chameleons and Bauhaus into a uniquely American experience that would have been mistaken for new wave by undiscerning passersby. Jeremy Guenter played his guitar in a whirlwind of Geordie Walker, Steve Jones and Mark Farner, accentuating the Peter Murphy-inspired melodic monotone of vocalist Leigh Gregory. Greg Balfanz's keyboards added an ethereal touch, while drummer Charles Dube kept the rhythm section solid with his metronomic Alan Myers-like drumming. It's a sound that would have made them huge had the gods been on their side.
"Cornered Smile," from 2003, continues the hard-edged darkness, but "Street of Kisses," from the same session, comes across as Leonard Cohen fronting The Bad Seeds, proving the band's energy is still vibrant as ever.
It's a shame that a band with so much to offer would be relegated to relative obscurity. Fortunately, we have this collection to remind us that there was a great goth band from Hartford, CT once upon a time.