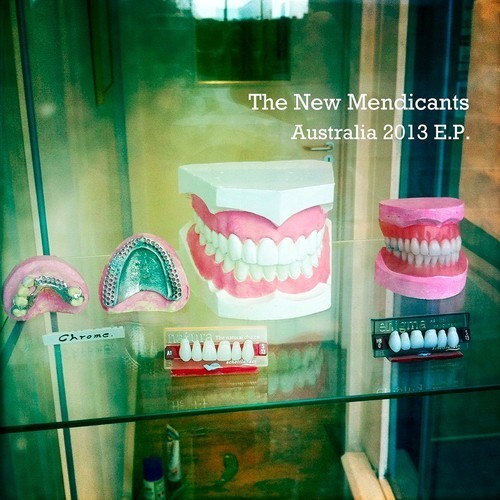 31 March 2013
Here's one that we have been looking forward to for months now. Aside from the promise of this being released going all the way back to when we pre-ordered it in December of last year and a few tantalizing YouTube clips, that was all we had to go on until now for proof that this collaboration actually existed and wasn't just a fantasy. So finally, it's out. Was it worth the wait?
In a word, yes. Before that, for those who don't know, The New Mendicants is the new project of Joe Pernice of The Pernice Brothers and Norman Blake of Teenage Fanclub. It's the first new music from Blake since the release of his 2011 album with Euros Child as Jonny and the first Pernice release since The Pernice Brothers put out Goodbye, Killer, a bit of a disappointment at first and one that was hard to get used to since it's missing key guitarist Peyton Pinkerton, but one that really grew on me. The collaboration came out since both Pernice and Blake now live in Toronto and since both of their styles are rooted in '60s pop, it makes complete sense.
With all that said, the thing that stands out the most about this release is that there are only three new songs. The EP's first track is a cover of INXS' "This Time," appropriate for an Australian tour EP. And now that I'm on the subject, what is it with Pernice and Australian tour EPs since The Pernice Brothers released one back in 2002? That aside, they really do justice to this song, though it does make one wish that they would've included their brilliant version of The Go-Betweens' "Finding You" (a Grant McLennan gem from their last album, 2005's Oceans Apart), which they performed live (you can see it here). There are also reworked version of Teenage Fanclub's "I Don't Want Control of You" (from their great 1997 apex Songs from Northern Britain) and The Pernice Brothers' "Amazing Glow" (from 2005's underrated Discover a Lovelier You).
There are six songs total here, so there are only three new songs here, all sung by Pernice. In fact, "I Don't Want Control of You" is the only song on which Blake sings lead here, though his harmony vocals are present on all of the other cuts here. Thus, this is really Pernice's show. The new songs are fine, but don't stand out next to such tried-and-true classics.
They are making an Lp, though, so while this is a satisfying appetizer, one can hope that the main course will do more to fulfill this collaboration's tremendous promise.